A Note of Encouragement

A few months ago, I encouraged you to take AWAI up on their ongoing $10,000 challenge to beat their control. I hope you will take me up on my recommendation.
At this year's bootcamp, Katie Yeakle presented me with a $10,000 check for the letter I submitted earlier this year! I was exhilarated and, yes, surprised. After all, just one year ago, I was sitting behind a desk crunching numbers for an engineering firm. Now, I've been paid $10,000 for a single sales letter!
I tell you this not to boast but only to illustrate the point that it can be done. All it takes is a little research, discipline, and application of the skills taught in the copywriting course.
Here's a glimpse at how quickly taking the course dramatically changed my life …
I enrolled in the basic program in January 2001.
By July of that same year, I was totally over my current job, so I enrolled in the coaching program to accelerate my transition into copywriting.
That September, I attended my first bootcamp – and that's when things really started to take off.
By January 2002, AWAI accepted my spec assignment from the bootcamp and I got my first copywriting check.
I believe it was early March when AWAI started giving me additional writing assignments. At this point, I was still a little hesitant about selling my copywriting services so I was getting work only from AWAI.
In June, however, I received an assignment for VitalMax Vitamins. And it became their control!
I even get assignments with one of my dream clients, Nightingale-Conant
Soon I had all the work I could handle (without handing out a single business card) and I quit my 18-year environmental career in September 2002.
In January 2003, I wrote a letter for AWAI's $10,000 Challenge. And in September, I received that check for $10,000!
So, you see, it really is possible. If a scientist who once despised the very thought of marketing can win $10,000 for a single sales letter, so can you!
Biggest Career-Boosting Event of the Year!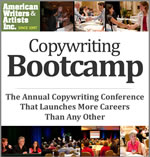 Get million-dollar industry secrets and cutting-edge techniques straight from the experts who created them …
Network with fellow writers of all levels and build a support team to keep you motivated and on track …
PLUS land new clients – or your first client – at our ultimate job fair for freelance writers …
Join us for our biggest writer's event of the year to get all this and more!
Published: November 3, 2003