Quick Tip:
Getting Over "Book Guilt"
There are so many great classics – so many books you've heard of that you wish you'd read. Fact is, a lot of them aren't good … or at least they're not good for you at this particular point in your life.
Here are some tips from Steve Leveen, author of "The Little Guide to Your Well-Read Life," to help you get over the guilt of never having read "War and Peace":
If you're 50 pages into a book and still not hooked, put it down. Maybe give it the heave-ho. Maybe save it for another time. It's not your fault the author didn't write a book that's good enough to grab you.
Learn to discern between literary pretentiousness and books that are worth reading. Maybe the book is a classic because it was groundbreaking for its time. That doesn't mean you're illiterate because you haven't read it.
Establish a shelf of "maybe later" books. If a book doesn't appeal now, perhaps it will later – when you're traveling or in a different state of mind.
[Source: Rachel Sauer, writing in The Palm Beach Post]
Work with the AWAI Team on a Real Writing Project!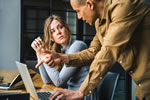 "Simulated Training" is AWAI's newest interactive learning where you get to work directly with AWAI's copy chief on a real writing project.
Not only will you experience what it's like to write for a real client — you'll learn what to do at every stage of the writing process … plus you'll get live personal feedback on your writing.
And right now, we're offering a limited number of spots FREE to members of our highest level of learning.
Go here now for full details …
Published: June 6, 2005