Quick Tip:
When to Use Features to Sell Your Product
When selling to the B-to-B market, people doing the buying understand the benefits your product's features bring with them. For this reason, they look first at its features.
Example: An IT professional knows a 3.3 Gigahertz processor gets the work done faster than a 2.1 Gigahertz one. And he knows what that advantage means to his company.
So you would sell your 3.3 Gigahertz processor to this audience by accentuating this feature.
Fastest Way to Earn a Living as a Writer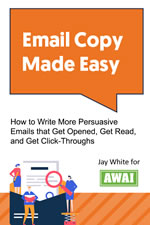 If you're looking to make money as a writer sooner rather than later, check out this writing opportunity …
It's one of the fastest ways to get your foot in the door and get paid $100, $250, even $500 for maybe an hour of work.
It's easy to learn how to write, the demand is high, the money is great, and there's very little risk for the clients to give you a shot.
Go here for all the details on getting started.
Published: January 17, 2006