Quick Tip:
When to Use Features to Sell Your Product
When selling to the B-to-B market, people doing the buying understand the benefits your product's features bring with them. For this reason, they look first at its features.
Example: An IT professional knows a 3.3 Gigahertz processor gets the work done faster than a 2.1 Gigahertz one. And he knows what that advantage means to his company.
So you would sell your 3.3 Gigahertz processor to this audience by accentuating this feature.
Make Money Writing "Collateral" Now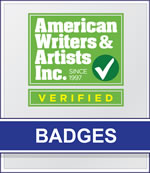 $150 for a 15-word ad? $500 for a 3-minute video script? $800 for a quick content piece?
Yes, Yes, and YES!
If you can master the in-demand skill of "collateral content," you can start making money as a writer NOW.
Badges — with its online training and feedback on your writing — shows you how.
Published: January 17, 2006