Quick Tip:
Frank Bettger's Self-Promotion Secret

Today's Quick Tip was inspired by a book I read recently: "How I Raised Myself From Failure to Success in Selling" by Frank Bettger
Frank turned his struggling insurance career around when he decided he was going to "tell his story" to at least four people a day. He also made the commitment to keep detailed records of each of those meetings.
The result …
He found that steady self-promotion resulted in a steady and predictable stream of new clients.
To make this work for you, you have to do three things:
Do some self-promotion every day, five days a week … no exceptions.

When assignments start to roll in, you may be able to scale back a bit. But if you stop completely, so will your stream of new clients.

Keep a detailed record of your efforts. Create a spreadsheet tracking the response to every query you send. Update it religiously.
Start now. Find four businesses you want to write for and contact them … TODAY.
AWAI Badges Prove You've Got the Skills!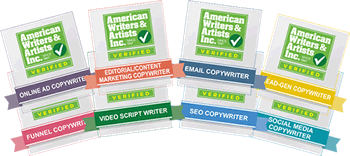 Learn to write 8 of the most in-demand copywriting projects (no sales letters!), and AWAI will verify you've mastered the skills.
You'll build up the confidence and knowledge you need to land clients. And have the samples and "Badges" to prove you've got what it takes.
Last spots remain — click here now for details!
Published: November 27, 2006