Hidden Secret of Successful Brochure Design

At some point in your design career, you will work on a brochure. It may be part of a DM-package … or a job by itself. And a recent visit to the airport reminded me of an important strategy to keep in mind when you do it.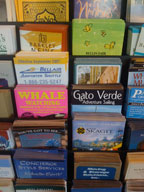 The brochure racks at the airport can hold dozens of tri-fold brochures. But because of the design of most of those racks, you typically see only the top half (give or take) of each one.
In just about any brochure rack, you're bound to find a few where the designer made a fatal mistake. I'm sure you can guess what it is: The designer didn't realize how little of a brochure cover can be seen in a rack, and even in a countertop brochure holder.
There's always at least one brochure in the rack where the eye-catching copy or graphics is on the bottom half of the cover. The great graphic work that went into it can't be completely seen. More important, its ability to grab attention … has disappeared.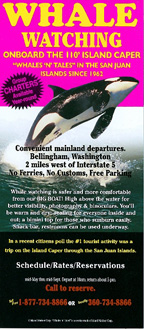 In the brochure rack I was looking at in the airport, most were designed properly. For example, a brochure for a whale watching tour featured a picture of a whale on the top portion of the cover.
That's a good way to catch people's attention as they scan the display for something of interest. For brochures promoting various cities, the names of the cities were prominently shown at the top.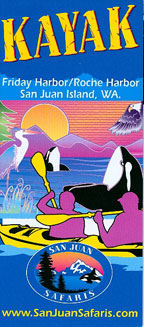 The designer of a kayaking brochure understood that only the top part of the design would be seen in the rack. So he or she placed "Kayak" in big letters on a bight-colored background at the top of the brochure to draw attention and make it stand out from competing brochures.
Notice that although the lower portion of the brochure has a lot of colorful images, the word "kayak" stands out because it is on a simple background.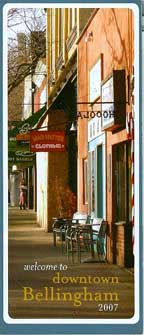 But then I spotted one brochure that showed nothing but a dark brown color. No text. No graphics. No bright colors to catch the eye.
The designer in me was curious, so I pulled it out of the rack. Sure enough, the headline was on the bottom half of the page, totally invisible when placed in a brochure rack. While I picked up that brochure for "professional" reasons, I'd be willing to bet few others bothered. Since there was nothing to pique their interest, why would they?
And don't think only travel-related brochures need to have an eye-catcher at the top. Many Chambers of Commerce use brochure racks to promote their members, no matter what businesses those members are in. And trade shows use brochure racks too.
The point is, you have to know where any brochure you design might end up.
So, when you land a brochure project, make sure you ask the client how it will be used. If the only use will be in a direct-mail package, placement of the cover elements isn't as important as it is when the brochure is intended for a display rack. You have a lot more latitude.
But if there's even a remote possibility that the brochure will end up in a brochure holder or rack, you must design for that right from the start.
By the way, asking clients questions like "How will this brochure be used?" and "Are you sure it will never end up in a rack?" is very beneficial to you professionally. Clients love it when you think of something they might have missed. That's one way you add extra value to your services – and convince them to keep calling you instead of someone else.
* * * * * * * * Special Member Alert * * * * * * * *
Adobe Announces Free Online Photoshop Express
Adobe recently announced that they are making a free, basic version of Photoshop available online. Called Photoshop Express, Adobe says this version is easier to learn and use than its full-feature software (which retails at $619).
Because the software is Web-based, you can use it with any type of computer, operating system, or browser. And, once you register for Adobe Express, you can sign on to use it from any computer.
With Photoshop Express, you can resize, tint, distort, and add other creative touches with options like Pop Color, Sketch, Hue, Black & White, Tint, and more.
And as an additional benefit, once you register, you're given 2GB of photo storage space.
Of course, Photoshop Express does not have the power or flexibility of full-feature Photoshop. But it is considerably easier to use, less intimidating … and free. It's definitely worth your time to explore.
Check it out on the Web: https://www.photoshop.com/express/

The Professional Writers' Alliance
At last, a professional organization that caters to the needs of direct-response industry writers. Find out how membership can change the course of your career. Learn More »

Published: April 10, 2008