Quick Tip:
Extracting Images From PDF Files

The more you familiarize yourself with Adobe Acrobat (full-featured, not Acrobat Reader), the more of its power you can harness. One tool you'll want to master is Acrobat's ability to export raster images embedded in PDF documents to individual graphic files.
This is very convenient if, for example, a client wants you to use images from an earlier promotion, but does not have the original image files. (It happens … more often than you might expect!)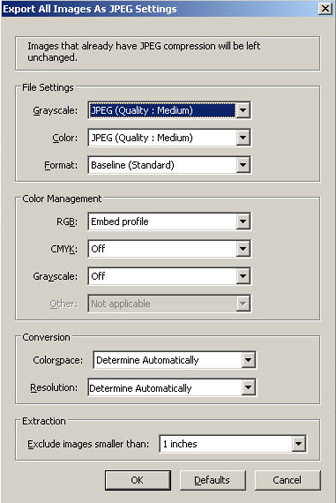 Here's how to do it:
From the menu at the top, choose Advanced > Document Processing > Export All Images.

In the Export All Images As dialog box, choose a file format for the images. By default, exported image files use the source file name.

Click Settings.

In the Export All Images As Settings dialog box, select the file settings, color management, and conversion settings for the file type.

For Exclude Images Smaller Than, select the smallest size of image to be extracted. Select No Limit to extract all images.

Click OK. In the Export All Images As dialog box, click Save or OK.
Note: As indicated above, you can export raster images (scanned images, digital photos, JPGs, GIFs, TIFFs, etc.) but not vector objects (e.g., Illustrator and CorelDraw images).

The Professional Writers' Alliance
At last, a professional organization that caters to the needs of direct-response industry writers. Find out how membership can change the course of your career. Learn More »

Published: April 24, 2008