Design and Extreme Insight Into Human Psychology:
How "Cute" Can Sell

Achieving a high response rate depends so much on what my friend Karen Rice-Gardiner – Director of Creative Services, National Geographic Society – calls "extreme insight into human psychology."
The people who succeed in this business – copywriters and designers – have that insight … in spades.
Direct-marketing designers distinguish themselves by what I've been calling the "aesthetics of value" – triggering response through a sharp and knowledgeable integration of commerce and aesthetics. When I was interviewing direct-mail designers for my book Designing Direct Mail that Sells,it really struck me how much the designers brought to the party in terms of how they could get into the heads of their audience to devise a visual strategy. Plus, they could leverage a repertoire of styles from "insane to plain," and a dip into a kitchen sink load of tricks.
Today and in coming articles, I want to take a look at a few tricks of the trade in light of psychological insights. For instance, "cute" can kill in marketing copy. Being clever with words, using puns, or showing off verbal gymnastics never works to convince the prospect to buy.
But cute can be leveraged tactically in design. In times of economic uncertainty, you start seeing beaucoup successful efforts featuring cute – cute babies, cute kids, cute kittens, cute puppies. And for all sorts of products and services.
My guess why? It makes you feel good fast, and almost can't miss in gaining attention:
"The human cuteness detector is set at such a low bar, researchers say, that it sweeps in and deems cute practically anything remotely resembling a human baby or a part thereof, and so ends up including the young of virtually every mammalian species, fuzzy-headed birds like Japanese cranes, woolly bear caterpillars, a bobbing balloon, a big round rock stacked on a smaller rock, and a colon, a hyphen, and a closed parenthesis typed in succession [producing :-) the smiley emoticon.]
Whatever needs pitching, cute can help. A recent study at the Veterans Affairs Medical Center at the University of Michigan showed that high school students were far more likely to believe antismoking messages accompanied by cute cartoon characters like a penguin in a red jacket or a smirking polar bear than when the warnings were delivered unadorned." The Cute Factor by Natalie Angier, "Science Times," The New York Time
Here is an example of successful use of the "cute" factor: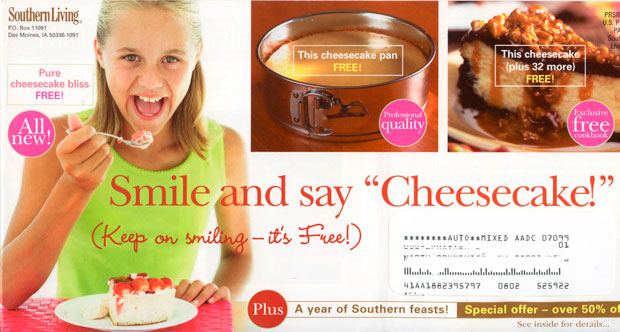 Brian Carnahan, Vice President and Publisher of Oxmoor House, said, "The Smile and say 'Cheesecake!' package by designer Alice Taus and copywriter Melanie Dexter was a dynamite combination of offer, copy platform, and design. And the cute kid on the outer is a great hook."
In fact, this jumbette and its cookie-premium predecessor (also by Taus and Dexter and also using a cute kid on the outer) beat everything tested against them for Southern Living's recipe annual from September 2002 to December 2007.
Cute kids on the outers have been big winners for other Southern Living books, according to Carnahan. Yes, Southern Living's 3 million plus audience tends to skew to the Southeast and be traditional, but there were many possible design choices for a cookbook package leading with the premium. It was Taus' insight that led her to the perfect photo. As she said, "Who could resist?"
Once you open the package, though, cute kids are nowhere to be found. The cute kid photo did its job: It got the envelope opened.
If cute lizards can sell insurance, cute kids can surely help sell cookbooks. I think the evidence says it pays for us to put the power of "cute" into our trove of insights and tricks. You could think of cute as an automatic attention-grabber. But, of course, it depends on where you go with the attention once you've got it. You have to prove value fast.
[Ed. Note: Sandra J. Blum, President of Blum & Co. in Fairfield, CT, specializes in the creation and production of direct-response programs for clients whose products range from computers to design magazines.
Sandra brings experience in graphic design, copywriting, and all aspects of direct-mail strategy, including list selection, mailing services, and print buying. Her clients have included AC Nielsen, Aetna, Biography Magazine, Harlequin Enterprises LTD, the International Monetary Fund, J.P. Morgan Chase, National Geographic Society, Pitney Bowes, Price Waterhouse, Smithsonian, Tufts University Media, and VNU.]

The Professional Writers' Alliance
At last, a professional organization that caters to the needs of direct-response industry writers. Find out how membership can change the course of your career. Learn More »

Published: June 5, 2008