AWAI Partners With Target Marketing to Create a Virtual "Idea Factory" for Copywriters
AWAI recently joined forces with Target Marketing Group to bring its members a constant flow of control-beating insights and ideas …
Introducing Inside Direct Mail for AWAI — the copywriter's best resource for knowing what's happening in the world of direct response, and learning how to apply what's working to the copy they're writing.
"All of us at the Target Marketing Group are delighted to be partnering with our friends at AWAI! Our mutual goal is to provide the knowledge, resources, and expertise in order to create a new generation of top-notch copywriters!"
— Peggy Hatch, Group President, Target Marketing Group
"This great new partnership we've forged is going to make you a much stronger and better-informed direct-response-marketing expert. It's the type of idea that had us asking … Why didn't we think of this sooner?"
— Katie Yeakle, Executive Director, AWAI
Get all the details on the resource no copywriter should be without …
Last Chance


LIVE Copywriting Training Starts Soon!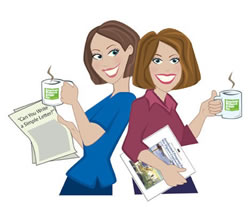 Join Katie, Rebecca and special guest experts for an in-depth, comprehensive LIVE webinar training series where they'll teach you ALL the skills, secrets and techniques you need to become a successful copywriter — all in a matter of just 10 weeks.
Warning: They only do this LIVE training once a year — don't miss out on this rare and highly effective learning opportunity.
Hurry! Enrollment closes tonight at midnight.
Published: August 28, 2008