Job Opportunities …
Put Your Spanish Language Skills to Work Writing for Mexican Audience
KWIZ Radio in Santa Ana, California, is a Spanish-speaking radio station. They need a skilled, bilingual copywriter to help them connect with their target audience. You must be able to write powerful, results-oriented copy in Spanish and have a good understanding of the Mexican audience in southern California. Send your information to David Munoz, Jr., 1845 Empire Ave., Burbank, CA 91504.
Get all the details on current jobs and opportunities for copywriters and designers!
LAST CHANCE:

Get Paid $800 to $2,000 to Write E-newsletters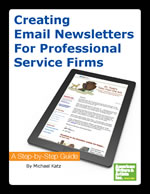 It only takes a few weekends to get your freelance writing business up, running, and ready to take on clients.
Click here to get all the skills you need to present yourself as an expert … and get you your first paying client, fast!
By this time next month, you could have a full schedule of loyal retainer clients paying you $800 to $2,000 every month.
Hurry! Discounted Enrollment Ends at Midnight.
Published: August 14, 2008