Special Announcement …
Congratulations to Web Copy Specialists Who Scored Paying Assignments!
Last week, AWAI members spent an intense three days in Tampa, Florida, training to become web copy specialists. With the help of experts Nick Usborne, Matt Furey, Andrew Palmer and Heather Lloyd-Martin, attendees emerged on the final day with the skills needed to successfully write copy for websites, emails, pay-per-click campaigns and search engine optimization.
During the Intensive, some chose to submit specs, while others presented new ideas and demonstrated their writing abilities to AWAI's marketing team, for a chance to receive a paying assignment from AWAI.
We are proud to announce the first group of attendees who can call AWAI a paying client! Congratulations to …
Margot Teleki
Phila Hoopes
Stephen Kovach
Jacqui Austin
Mike Minicucci
Jan Schochet
Mike Gates
Joanne Bellard
Christine Fuller
Karie Clingo
Linda Iloba
Olive Wolfe
Lois Puttbach
Cynthia Abel
David Piper
Jack Palmer
Jill Schwartz
Stay tuned for more details … and more winners!
The copywriters who attended AWAI's Web Copywriting Intensive are already taking the copywriting world by storm. If you're a marketer, you'll want to get on their client list as soon as possible.
And if you're a copywriter, you can participate in our next spec challenge at this year's FastTrack to Copywriting Success Bootcamp! Register today and we'll send you all the details on the 2008 AWAI Bootcamp Copywriting Challenge, and how you can earn back your Bootcamp registration fee.
Work with the AWAI Team on a Real Writing Project!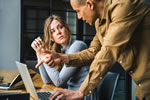 "Simulated Training" is AWAI's newest interactive learning where you get to work directly with AWAI's copy chief on a real writing project.
Not only will you experience what it's like to write for a real client — you'll learn what to do at every stage of the writing process … plus you'll get live personal feedback on your writing.
And right now, we're offering a limited number of spots FREE to members of our highest level of learning.
Go here now for full details …
Published: August 13, 2008