Congratulations …
Former Field Engineer Conrad Hall Is the Latest Addition to AWAI's "Wall of Fame"
"Before I became a copywriter, I had to be up at 4:30 so I could be to work at 7, no matter what the weather, all year round. By 3:30 every day, I went home exhausted. The only time I ever had to get things done was on the weekend – which meant I didn't really have much of a weekend.

"Now I get up at 4:30 because I enjoy it, and I work when it's quiet. Then I go for a bike ride just when I get to watch everyone else making their way to work. It's kind of fun to see the looks on other people's faces when they see me riding away from downtown. The best change for me is that I do what I want to do each day."
— Conrad Hall, AWAI Member since 2007
Read Conrad's profile and others on the "Wall of Fame" and get inspired today!
We want to hear from you. If you think you're ready to join AWAI's "Wall of Fame," submit your story today.
Biggest Career-Boosting Event of the Year!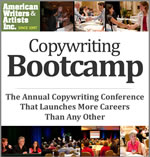 Get million-dollar industry secrets and cutting-edge techniques straight from the experts who created them …
Network with fellow writers of all levels and build a support team to keep you motivated and on track …
PLUS land new clients – or your first client – at our ultimate job fair for freelance writers …
Join us for our biggest writer's event of the year to get all this and more!
Published: September 12, 2008