Special Announcement …
Congratulations to AWAI's Latest $10K Challenge Winner … Pat McCord!
At Bootcamp last week, AWAI Executive Director Katie Yeakle announced the latest winner of AWAI's "$10K Spec Challenge." And the winner is … Pat McCord from Tucson, Arizona!
According to Katie,
"Pat's promo encouraging her fellow copywriters to come to Bootcamp beat last year's control … earning her $10,000 in upcoming work from AWAI. Pat did a great job of using a story lead. And, she packed her letter with proof that Bootcamp can launch careers."
Rebecca Matter commented,
"I'm thrilled that Pat was the winner of the $10K Challenge – she is the perfect example of what the award is all about. I met Pat two years ago at her very first Bootcamp in my peer review session. She had just decided to become a professional freelance copywriter, and after seeing her writing firsthand, I knew she had potential if she put in the time. She worked hard on mastering her copywriting skills, and that hard work paid off. Winning this award proves that she's made it."
Here's Pat McCord with Rebecca Matter and Katie Yeakle last week at the annual AWAI Awards Luncheon at Bootcamp: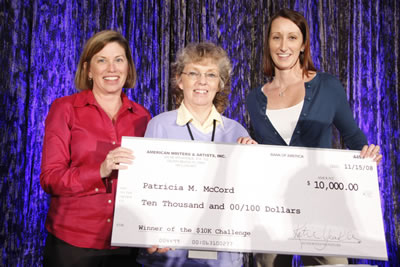 You can read Pat's winning promo here …
Get more information about AWAI's "$10K Spec Challenge" here …
Biggest Career-Boosting Event of the Year!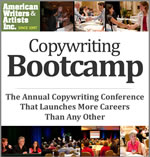 Get million-dollar industry secrets and cutting-edge techniques straight from the experts who created them …
Network with fellow writers of all levels and build a support team to keep you motivated and on track …
PLUS land new clients – or your first client – at our ultimate job fair for freelance writers …
Join us for our biggest writer's event of the year to get all this and more!
Published: November 21, 2008