How Important Copy Really Is to a Promotion

When I first started learning about copywriting, I believed that copy was 100% responsible for the success or failure of a promotion.
Then I heard the mantra "Copy and List!" from one of my former employers at a meeting in Ireland in late 2005.
So now, the list was apparently just as important as copy.
OK. Fair enough.
Then, at a copywriter's retreat I attended in France in 2006, I learned from top financial copywriter John Forde that the offer also plays a critical role. So critical, in fact, that John even recommended writing the offer first – before anything else - because it's simply that important.
So now I had copy, list, AND offer running amuck in my mind.
Great. Even more to think about.
It gets even more complex.
In November of 2008 while attending a presentation at AWAI's FastTrack To Copywriting Success Bootcamp, I found out from direct response graphic designer extraordinaire Lori Haller just how important a role layout and format plays in the success or failure of a promotion.
I knew quality graphic design was important, of course, but just how important it was I had no idea… until that presentation.
And then, on top of all this, I've just recently learned in early 2009 how incredibly important timing can be when it comes to the success or failure of any given promotion.
This makes sense more than ever these days. Think about it. How many promotions and articles have you read lately that mention the dire state of the economy?
That's the importance of timing.
So… which is the most important element of a promotion?
Which is least important?
Well… according to Bob Stone and Ron Jacobs, authors of the excellent book Successful Direct Marketing Methods, this is their take on "the weight given the elements of a promotion in a direct marketing program":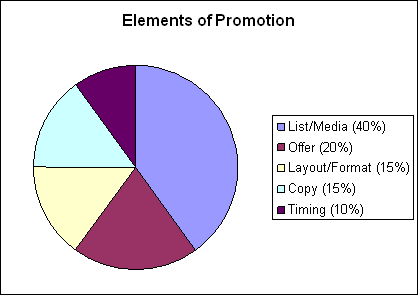 So… copy apparently only makes up 15% of the success or failure of a promotion.
Interesting, isn't it?
But here's the thing.
In a business that's measured by tenths of a percent, every single thing that you can do counts. EVERYTHING!
So if that means tweaking a headline 25 times until it's just right… or split-testing formats and offers… or choosing lists meticulously… or tweaking the copy to reflect the times… IT ALL MATTERS!
Phew… I'm getting exhausted just thinking about it!
But hey… that's the game we're playing… and if you do it right, you can make more money than most other professions… so I know it's all worth it.

The Professional Writers' Alliance
At last, a professional organization that caters to the needs of direct-response industry writers. Find out how membership can change the course of your career. Learn More »

Published: February 20, 2009