If I Had to Start Over

As one of AWAI's writers, I always get an 'inside look' at how our members are doing.
And I've got to say, it's quite surprising how many success stories we get from Circle of Success members.
It seems as though every week, a member is having a breakthrough… whether they've just landed their first paid assignment or recently got hired by one of America's largest direct-mailers.
When I realized this, I stopped a second to think about it.
And it's my hunch that the reason COS members are having so much success is because of the step-by-step approach COS takes.
They get countless training sessions (that cover crucial topics like Headline and Leads and Getting Clients). Plus, they have access to every single resource AWAI offers.
This is obviously a powerful combination. One that's proven itself many times over.
In fact, if I had to start over again – knowing what I know now – you can be sure I'd be first in line to join Circle of Success when it becomes available.
Work with the AWAI Team on a Real Writing Project!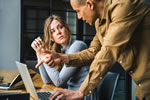 "Simulated Training" is AWAI's newest interactive learning where you get to work directly with AWAI's copy chief on a real writing project.
Not only will you experience what it's like to write for a real client — you'll learn what to do at every stage of the writing process … plus you'll get live personal feedback on your writing.
And right now, we're offering a limited number of spots FREE to members of our highest level of learning.
Go here now for full details …
Published: March 2, 2009