… It's How You Play The Game

Last Christmas, I received the 21st edition of Uncle John's Bathroom Reader. If you're not familiar the name, it's a book that contains interesting stories, facts and little tidbits of information.
It's a pretty good read, but there was one story in it that almost brought me to tears.
It was about girl by the name of Sara Tucholsky. Sara is 5' 2" in height. In 2008, she played softball for the Western Oregon University Wolves.
In the last game of the season the Wolves faced the Central Washington University Wildcats. The winner would move on to the National Collegiate Athletic Association (NCAA) tournament. For the loser, the season was over.
Sara had been playing softball for 8 years, yet she'd never hit a home run. This was her last season playing ball and she desperately wanted to hit one to help lead her team to victory. She was 3 for 34 at the plate for the season – a .088% batting average. So she was due.
The Wildcat fans heckled Sara's small stature as she went up to the plate. There was no score in the game; however two Wolves players were on base. Sara looked at the first pitch come in. The ump yelled "strike".
The second pitch came in. Sara swung as hard as she could and the ball left her bat like a rocket. It cleared the center field fence. Home Run!
Sara took off around the bases, but in her excitement she missed touching first base. She realized it as she was approaching second base. She spun around. Something went snap. She went down. She lay on the ground writhing in pain. She had seriously injured her left knee.
The ump quickly told Wolves Coach Pam Knox that if Sara couldn't touch all the bases, her run wouldn't count and that a pinch runner would have to be brought in and take first base. The ump also informed them that their team mates could not assist Sara in any way or she'd be declared out. Coach Knox called for a pinch runner.
That's when Mallory Holtman stepped in.
She was the opposing team's first base person and their career home run leader. Despite her accomplishments on the field, she'd never made it to the NCAA tournament. If her team lost today, her season and collegiate softball career would be over.
Mallory went up to the umpire and said "Excuse me, would it be ok if we carried her around and she touched each bag?"
The ump said there was no rule about someone from the other team helping Sara out.
So Mallory and Wolves' shortstop Liz Wallace, gently raised Sara between them and started walking her around the bases, making sure her left foot lightly tapped each bag.
When Sara's foot finally touched home plate, the crowd gave the girls a standing ovation. Many in the stadium were in tears.
Mallory and Liz's goodwill gesture ending up costing them the game and entrance into the NCAA tournament. They lost 4-2. But few were talking about the score.
Coach Knox said afterwards "It's moments like that, that you to respect that it's just a game. I hope it's a lesson my players will never forget. I certainly won't."
The Aftermath
The Wolves went on to the NCAA Tournament where they finished second. Sara did not play due to her injury. She maintains that the real heroes are Mallory and Liz who have both been pretty humble about what happened. Mallory says "It's not about winning and losing so much – it was about this girl. She hit it over the fence and she deserved a home run".
And as it turns out the ump got it wrong. The pinch runner could have come into the game and finished running the bases for Sara. But this is a rare case where we can be thankful that the ump made a bad call, because the world would have been denied this great act of sportsmanship.
Biggest Career-Boosting Event of the Year!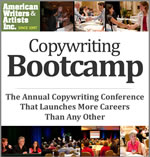 Get million-dollar industry secrets and cutting-edge techniques straight from the experts who created them …
Network with fellow writers of all levels and build a support team to keep you motivated and on track …
PLUS land new clients – or your first client – at our ultimate job fair for freelance writers …
Join us for our biggest writer's event of the year to get all this and more!
Published: March 25, 2009