Congratulations …


Home-Based Internet Marketer Is the Latest Addition to AWAI's "Wall of Fame"

Congratulations to Sandi Krakowski, the latest addition to AWAI's "Wall of Fame."

Sandi currently works from home 25 hours a week as the head of marketing and sales at a company that hired her through DirectResponseJobs.com. She does monthly copywriting, marketing, dealer training, catalog edits, sales letters, and lead generation.

She says, "Because of my association and training with AWAI, I was able to qualify for such an amazing job working from home with an income twice what most people make in the corporate world! And it's a job I love!"

Sandi's favorite niches to write for are home-based business and Internet marketing. Her proudest moment was when she rewrote a sales letter for the company she works for and saw record-breaking sales in just three days.

One of Sandi's secrets is that she always stays focused on her client's needs. "By becoming sincerely interested in helping them succeed," she says, "you will NEVER lack work, and you will always love what you're doing. To work is great, but to LOVE what you do … that is real living!"

Read Sandi's profile and others on the "Wall of Fame" and get inspired today!

We want to hear from you. If you think you're ready to join AWAI's "Wall of Fame," submit your story today.
Work with the AWAI Team on a Real Writing Project!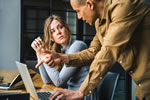 "Simulated Training" is AWAI's newest interactive learning where you get to work directly with AWAI's copy chief on a real writing project.
Not only will you experience what it's like to write for a real client — you'll learn what to do at every stage of the writing process … plus you'll get live personal feedback on your writing.
And right now, we're offering a limited number of spots FREE to members of our highest level of learning.
Go here now for full details …
Published: March 12, 2009