AWAI Article Archive Enhancements
Allow You to Provide Feedback
In order to continue providing the tips, advice, and strategies you find most useful for growing your business, we need your feedback.
Here are three new, easy ways for you to participate as you browse the Article Archive …
Rate articles.

At the bottom of every article in the Archive, you'll see "Click to Rate" followed by five stars. Simply click on the number of stars to rate the content of the article.

5 = Excellent
4 = Pretty Good
3 = Average
2 = Poor
1 = Painful

The number of "gold" stars already filled in reflects the article's average rating so far. If you see five empty stars, you can be the first to rate that article.

You can rate an article without having to login to your myAWAI account. You may rate each article once.

Post comments.

Beneath the ratings area, you'll see an option to "Leave a Reply." This is where you can tell your fellow AWAIers (and us!) what you think, and help steer the discussion about the article's topic. Your comments and questions may even lead to future articles on the subject.

In order to post comments, you need to be logged in to your myAWAI account.

If you're not an AWAI program member, you can now register for a free myAWAI account here.

Don't worry … when you post a comment, you can choose any display name you want, so your login email is always kept private.

Review responses.

Even if you're not logged in to your myAWAI account, you can review all responses already posted by other readers.
Work with the AWAI Team on a Real Writing Project!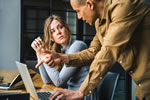 "Simulated Training" is AWAI's newest interactive learning where you get to work directly with AWAI's copy chief on a real writing project.
Not only will you experience what it's like to write for a real client — you'll learn what to do at every stage of the writing process … plus you'll get live personal feedback on your writing.
And right now, we're offering a limited number of spots FREE to members of our highest level of learning.
Go here now for full details …
Published: April 9, 2009