How to Grow and Balance Your Streams of Income As a Writer Or Copywriter

This article is about using your writing skills as a means to generate a balanced and growing income over time.
What I describe here is what I have done personally to balance and grow my own income. For you, the details will be different, but I believe you will find the model useful.
A little background. I've been a freelance copywriter for 30 years now. I have done well, but a few years ago I paused and realized that I was simply working one month at a time, without any longer-term plan.
I decided to take a closer look at my base skill – writing – and figure out some other ways to generate an income. I wanted something beyond "get a client, write the job, bill the client."
Below you'll see a diagram showing the four separate streams of income I have developed. These won't be the same for you, but there are probably three or four ways in which you can generate separate streams of income from your writing.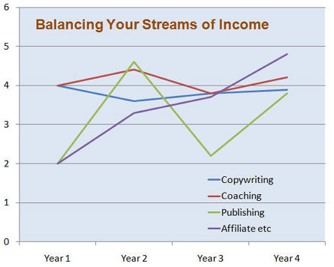 First, let's look at these four streams of income. (The figures on the left indicate levels of income, but don't actually represent dollar amounts. The bottom axis simple shows the passage of time over a four-year period.)
There is a balance among these four separate streams.
I knew that I wanted to develop a variety of different streams of income, all of them based on my copywriting and freelance experience. I have settled on these four, but actually explored many others.
Some of the other potential sources I discounted simply because I didn't think I would enjoy doing them. Others I ignored because they didn't fit with the balance I was aiming for.
What do I mean by balance?
Let me take you through each stream, one at a time, and show you what I'm talking about.
First, freelance copywriting is a stream of income that depends on my regular attention. As always I have to find clients, do the work, and then invoice for the work. If I'm not working, then I'm not generating revenues. If I take two weeks off, this revenue stream stops dread in its tracks. But for as long as I work on it, the income is reliable and pretty good.
Coaching is the same in many ways. I have to get clients, work with clients, and bill my clients. If I have time off, then I cease to make money.
Publishing is different. First I have to invest hundreds of hours writing the materials. This is a period when authoring and publishing is time-hungry and creates no income at all. I couldn't do it unless I was also copywriting and coaching. I balance my work week so that copywriting and coaching pay the bills, while I invest time in the publishing side.
The payoff comes if and when the published product sells well. Publishing can make you some money, or a ton of money, depending on how well each published piece sells.
And if you take your two-week vacation while your published item is selling well, you can relax in the knowledge that you're still making money even when you're away from your desk.
There is a downside in that most books, guides, and courses see a spike in sales followed by a decline. Very few remain "bestsellers" indefinitely. If you like that spike in income, you'll need to go back to your keyboard and start on a new project.
The final element in my balanced "portfolio" stream is the writing of content-rich information sites.
If anything, it takes even longer to write a substantial website than it does to write a course or book. And it takes longer to get a good return on that investment of time.
But … once you start making a healthy four figures a month from these part-time information websites, that income continues indefinitely and, for as long as you keep working on the site, albeit part-time, the income level will rise.
Rather than make you scroll back up the page, here is that chart again: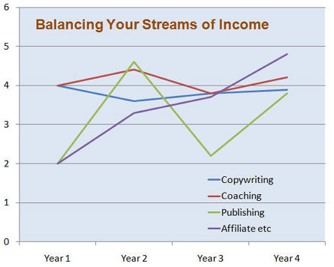 Let's now look at this from a balance and growth point of view.
As you can see, the income from copywriting and coaching is fairly level. Unless I significantly increase or decrease the time I spend on them, or the fees I charge, those lines will always be pretty much flat.
When you look at the publishing line, it is spiky. When a book, course, or program is first published and marketed, you see a jump in income. But it rarely lasts. The money keeps coming in, but not at the same level.
The affiliate line starts at a very low level, and takes a long time to rise. But rise it does. This is a passive stream that requires patience, but ultimately delivers the greatest reward.
The balance here includes sources of steady income, spikes of extra income, and a longer-term plan to generate a wholly passive income.
Wrapping up.
If you can write, I believe you can also think of at least three different streams of separate income. Try to find three or four that balance out the strengths and weaknesses of the others.
My plan and my balance are designed to address the particular needs I face at my age. I'm in my 50s, and in 10 years or so, I don't want to have to work every day to make a living. So my publishing and affiliate streams are there to give me the choice to work less on the copywriting and coaching, if and when I choose to.
If you're just starting out as a copywriter, your needs may be different, so your choices and chart will look a little different.
Regardless, don't be satisfied with any one stream. Writing and copywriting are flexible skills. The creation of multiple streams will give you a new and secure level of growth and balance in your income.

The Professional Writers' Alliance
At last, a professional organization that caters to the needs of direct-response industry writers. Find out how membership can change the course of your career. Learn More »

Published: April 20, 2009