Come Join Your Fellow AWAIers on Twitter

"Oprah discovers Twitter" … "Ashton Kutcher beats CNN in Twitter race" …
I asked AWAI's social-networking guru Jim Turner what … if anything … all the recent headlines about Twitter mean for you and your business.
Jim's take: "Oprah's joining Twitter is further evidence that social media is here to stay and is fully legitimate. Twitter is experiencing explosive growth. According to comScore, Twitter grew by 131% in the month of March alone, taking it to a total of 9.3 million users. There's no doubt Oprah is going to stoke even more growth. Within 24 hours of joining, she had over 310,000 followers. She will undoubtedly shatter a million followers within 7 days.
"Another thing to note is that Twitter's growth is coming from an older demographic than expected … the 45- to 54-year-old group. They're 36% more likely to join Twitter than the average person. A lot of them are on for business purposes, making Twitter a phenomenal marketing tool."
Launched in March 2006, Twitter is a free social-messaging network that allows users to post brief reports on what they're doing and thinking. Twitter has proven to be a powerful business tool by expanding a company's reach, tracking current trends, and keeping people connected in real time.
Here at AWAI, we're tapping into the marketing power of Twitter's social network. Come follow AWAI on Twitter and keep up-to-date on all our latest messages. Send us a tweet, and we'll be happy to tweet you back!
Go to AWAI's Twitter account …
Work with the AWAI Team on a Real Writing Project!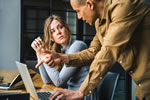 "Simulated Training" is AWAI's newest interactive learning where you get to work directly with AWAI's copy chief on a real writing project.
Not only will you experience what it's like to write for a real client — you'll learn what to do at every stage of the writing process … plus you'll get live personal feedback on your writing.
And right now, we're offering a limited number of spots FREE to members of our highest level of learning.
Go here now for full details …
Published: April 27, 2009