The Great AWAI Blog-Off Competition – Frequently Asked Questions

The Great AWAI Blog-Off Competition is causing some excitement! In the past 24 hours, I've received a lot of enthusiastic emails about the opportunity.
If you missed it, check it out here.
I've also received some questions, so I wanted to share my responses with you, in case you have any of the same ones …
How long should it be?
That's really up to you. How long does it need to be to get your point across? Think of a blog post like a conversation. At what point would your listener "tune out" if you kept talking? (Have you already tuned out?)
With an article, I find people really don't read past 800 to 1,000 words in one sitting. Maybe 1,200 if the content is really good. But again, your post could be shorter, could be longer. Just be engaging!
Are you looking for content posts, or a post about why I should be picked as the blogger?
Both! I want you to write to the readers of Wealthy Web Writer. They are your prospect. The post should be about you and what you will write about if selected as the new blogger.
Keep in mind the long-term project will focus on anything you choose, within the area of writing for the Web.
So once you get the job, your posts can be motivational … they can be on a market update … information on a job opportunity … a new technique for getting clients … something you read … anything!
I don't have any experience writing blogs. Can I still participate?
Definitely!
While blogs are similar to articles in that they inform the reader, they are a lot less formal in structure. It would be like calling me up to tell me about an article you read in The New York Times. You'd tell me the highlights, what you thought about it, etc.
Here are some examples of some recent AWAI blog posts.
Remember … the deadline is April 29th. So get writing and send me your submission.
Maybe you'll be my next blogger!
Work with the AWAI Team on a Real Writing Project!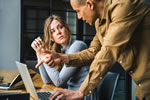 "Simulated Training" is AWAI's newest interactive learning where you get to work directly with AWAI's copy chief on a real writing project.
Not only will you experience what it's like to write for a real client — you'll learn what to do at every stage of the writing process … plus you'll get live personal feedback on your writing.
And right now, we're offering a limited number of spots FREE to members of our highest level of learning.
Go here now for full details …
Published: April 24, 2009