Copywriting Has Opened the Door
of Opportunity for Me

Copywriting has opened the door of opportunity for me. Not just any door – it opened the front door – MY NEW front door!!
I'm currently working on AWAI's Accelerated Program for Six-Figure Copywriting, and I wanted to share how it has already changed my life!
I recently was challenged with becoming a single mother of two young children and having the landlord raise my rent. It was a tough decision to move, because we all loved the house and the community in which we lived.
I searched for months, got out-bid on every property I offered on, and found that in many cases, the property had already sold the day after it listed! What recession? Where were all these buyers coming from? How could it be so difficult to get in?
Then I found it! My dream home! It was located where we were currently living, and it was the same exact floor plan as the house we were in. It was just 12 houses up the street. The only problem was that it was $55,000 out of my price range. With the way the houses were getting snatched up, it was a long shot at best. In fact, one realtor refused to put an offer in that low.
I decided to do it anyway, despite the objections by various people involved. I found a great realtor who would put the offer in and set to work that night on a copywriting project that would change my life.
I used all the information and skills I had learned so far from AWAI and wrote a letter to the seller. My letter was brief but focused on all the benefits to the seller and why she should select me. I listed the reasons I would be a great fit and gave her photos of me and my kids to make it personal.
My headline had the address followed by a huge bold word, "SOLD!!" I created the picture of her selling the house. I gave her the promise – a personal promise not to walk away like most short-sale buyers do, as the process is long and difficult. I gave her countless benefits of choosing me as the buyer, and proof that I was serious, as I had lived in this community already for 3 years, and I was already pre-approved, so I would not be a risk. I also told her I was willing to move and rent month-to-month somewhere until the sale was complete, proving I was the serious buyer I was talking about. Finally, I gave her the push to make both dreams a reality and sign the contract today.
The next day, I went to meet her realtor to put a face to my letter and make it even more personal. As soon as I told him my name, he said, "Oh you're the letter! The seller loved it!"
It worked! She had already signed that same day! The offer went through, and I am now packing my boxes and getting ready to move into the most beautiful house in the neighborhood! MY NEW HOUSE! Not only that, but the realtors are asking me to write letters for their other clients to help them, too.
I may not have completed the course, and I may not have my first client yet, but AWAI has already afforded me to earn $55,000 in reducing the cost for my dream home!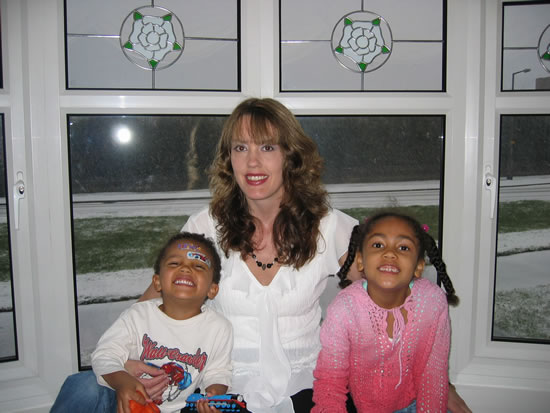 AWAI Member Lorraine Hunte with her two children

The Professional Writers' Alliance
At last, a professional organization that caters to the needs of direct-response industry writers. Find out how membership can change the course of your career. Learn More »

Published: May 14, 2009