AWAI Writing Challenge:
What's Your Best Productivity Tip?

As a freelancer, being more productive can help give you the edge you need to rise above your competition and still have time for the rest of your life.
So, this week, we want you to write about your best productivity tip. Tell us what you do in your career – and in your life – to stay on task and get things done that matter to you … to increase effectiveness and accomplish your goals … to keep motivated and avoid procrastination.
Send your 1,000-word (or less) essay to me at kyeakle@awaionline.com with "My Best Productivity Tip" in the subject line.
One winner will be selected from all entries received. Winner will receive a $100 American Express gift certificate* we hope you'll use to enjoy a nice dinner with a special guest. Winner will also have his or her essay published on the AWAI website.
Deadline for this week's challenge: May 12, 2009
The winner will be announced in next week's issue of Inside AWAI.
*Of course, it's up to you how you spend your prize money. A celebratory dinner was Michael Masterson's suggestion!
Your Path Now Versus What it Could Be: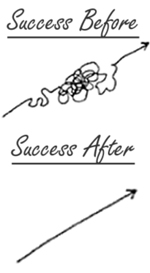 Nothing gives you a "straight shot" at success like Circle of Success.
We help you set goals … give you a personalized learning path … coaches and mentors … prime writing assignments … feedback from real copywriters … free Bootcamp, with VIP treatment … even a chance to work pro writers … and more.
Right now, we're accepting a limited number of new Circle of Success members.
Get the details here — including our low "get started" price.
Published: May 7, 2009