The First Step To Success In Your Spare-Time Publishing Biz

Today I have something exciting for you.
It's about what I believe to be one of the best spare-time businesses you can start … self-publishing.
The beauty of self publishing is that it takes little time up-front to create your product … and little time to create the system to sell it. Then the orders roll in, and all you have to do is spend a few minutes or less per order managing fulfillment, while you make more and more money.
(I've worked with many people who've literally made millions from what started as a spare-time publishing project.)
Now that's leverage – and a great spare-time income!
But, how do you know if you've got a potentially profitable publishing idea?
That's what today's issue of Spare Time Biz Success is all about.
It's a simple process for picking a profitable niche for your spare-time publishing biz. Use it to know in advance if you can grow a cash-cow publishing biz in the niche you're looking at. Or, if you need to scrap that idea and go back to the drawing board.
This should be the first step you take as you consider starting a new spare-time publishing project because it will give you realistic expectations about the size of your market. Plus, it will give you important insights into how much competition you're up against (you don't want too much OR too little, as you'll learn below).
And the best part is, it's absolutely free research … it won't cost you anything but a few minutes of your time.
But, before we get started …
I want to say thank you for the wonderful feedback about last week's issue. I'm glad you took my "just do it" message and ran with it – and really started to take the action necessary to move toward the fulfilling life you're planning for yourself. That's what it takes to get ahead.
Remember, now that you're moving forward and doing it …
"Each day you're getting closer to your goals – you cannot fail!"
Now, let's get into it and find a profitable niche for your spare-time publishing biz.
Your profits start with this research.
We're going to use a tool called the Google AdWords Keyword Tool. It's free to use, and located at http://adwords.google.com/select/KeywordToolExternal.
This tool tells you a few things:
You give it a short list of keywords – what you expect people may be typing into Google to find information like what you want to sell – and it feeds you back a much longer list of related keywords that may help you reach your target market. With this information, you can find exactly what potential customers are typing into Google so you can reach them right when they're interested in getting your information.
It tells you how many people search for each of those keywords. This way, you know how many people are actually out there looking for the information you want to sell – the more people searching on a keyword, the more potential customers you have.
It gives you a relative idea of how much advertiser competition exists on each keyword. With too much advertiser competition you may have trouble competing, and with no advertiser competition, its likely there's minimal sales opportunity – however when you find a niche with just a few advertisers you've likely found an underserved market niche.
And, today I'm going to teach you how to use it to do something else.
I'm going to teach you how to use it to decide if your publishing idea has enough traction online that you may be able to develop a profitable business around it.
Because if you're super-excited about your idea but only a couple hundred people are searching for it online, it's probably not worth attempting to create a spare-time publishing biz around.
However, if you can find a set of keywords that will deliver thousands or even tens of thousands of interested visitors every month without many other advertisers competing to reach those people, you may very well be able to create a profitable publishing business in that niche!
So let's jump in and find a profitable publishing niche …
When you first visit the URL above, you see something like this: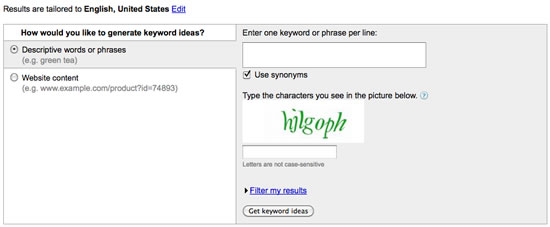 We're going to do our work on the right-hand side of that box.
Start in the box below where it says "Enter one keyword or phrase per line." First, enter the broadest term to describe your publishing idea.
Start very general here.
One thing I love to do is play in the local adult hockey league. So I'm going to explore the publishing opportunities around hockey and see what I can find.
So my most general term is "hockey."
But, we're not going to stop at the most general term – in publishing it's far easier to succeed by focusing on a niche than by focusing on the largest market available. And besides, someone searching for "hockey" could be looking for NHL teams, local teams, gear, blooper videos, anything.
So below "hockey" we'll type in a couple more terms to help Google focus the results.
Let's try this list:
hockey
hockey strategy
hockey skills
hockey drills
hockey tips
hockey training
… Each a good entryway into a published product about how to improve your hockey game.
Leave the "Use synonyms" box checked because sometimes Google will give you far better keywords for reaching your market than the ones you came up with on your own.
Then just type in the characters you see in the picture – it's Google's way of making sure you're human and not a computer abusing the system.
You do not need to use the "Filter my results" link.
And finally, click "Get keyword ideas."
In a moment, you should see something like this appear:

Before we go further, we're going to take a very minor but important step. Sorting the results. I like to use the average search volume to sort, because that figure tells me about the average monthly searches worldwide, over a 12-month period. So to sort by average search volume, click the words "Global Monthly Search Volume" above the second column from the right.
Click that and your results should look something like this:
Now we're getting somewhere!
As I said, I like to look at the "Global Monthly Search Volume" stat because it tells me the average monthly searches on a given term. The number you see is an approximation of how many people type that term into Google in an average month.
So, going down the list looking for relevant keywords around the hockey strategy, skills, drills, tips, and training subjects, I'm seeing:
"hockey drills" averages 60,500 searches globally per month
"hockey training" averages 49,500 searches globally per month
"hockey skills" averages 40,500 searches globally per month
That's a lot of people searching for how to improve their hockey game!
So, this market has plenty of people interested in it. But, is it competitive?
Here's how to identify competition in your niche …
Look at the second column from the left. All those green bars. That's a relative indicator of how much advertiser competition there is. How many people are advertising on Google AdWords around those terms.
Notice "hockey drills" is 100% full. So it has a lot of advertisers competing to show up on Google for that keyword.
"Hockey training" is also mostly full. There are also quite a few advertisers competing on that keyword – just not quite as many as "hockey drills."
And "hockey skills" is maybe 3/5 full – there seems to be a bit more room there to move in on the competition.
We've just learned tons about our niche!
It's looking more and more like there's an opportunity around "hockey skills."
We know right now that every month, on average, 40,500 people around the world search for "hockey skills" on Google.
We can also look at the column next to that labeled "Local Search Volume: August" to see that in August, 12,100 people searched for that term on Google within the area defined by our local settings – which in this case is the United States (I'm sure there's a seasonal effect there).
And, we know there is some competition for that term – which is good because we know there is probably enough money being made to support ongoing advertising.
But there's not too much competition that we couldn't get our foot in the door – which would be horrible because testing a new product against high competition can get very expensive without any guaranteed returns.
Fantastic!
And here's another tip for finding profitable sub-niches …
Look further down that page to identify other smaller sub-niches where you could be an even bigger fish in a smaller pond.
A quick look further down the page shows me hockey goalies are looking for even more focused training. Between "hockey goalie drills" and "hockey goalie training" there was an average of 7,200 searches per month. And, there's not as much advertiser competition:

Now that's an opportunity worth exploring!
Three important considerations before you move forward …
If you see tons of searches with full competition, there's probably a smaller, more profitable niche you haven't uncovered yet. "Hockey," for example, had a full advertiser competition indicator, and an average of 16,600,000 searches per month. It'd be easy to drown in that. If the keywords you're using yield results like that, you'll be better off going deeper by coming up with more specific keywords. Once you've found keywords with anywhere between 5,000 and 50,000 searches per month with some gaps in the advertiser competition, you know you're looking at opportunity.
No advertiser competition could spell disaster. Tread lightly where there is no advertiser competition, because it may just be the case that there are no buyers. If a keyword has nobody advertising on it, a market may not exist.
Don't be afraid to move on. Some markets just aren't large enough to support a publishing business. Or, if you try a market anywhere where the odds are stacked against you, you'll put in tons of work to make only a couple sales per month. In that case, you're better off abandoning that idea and trying to find another market with a higher probability of success. It doesn't take that much more to run a $100,000 publishing business than a $1,000 one, when the main difference is the market you chose in the first place. Go where the opportunity is!
Now you're ready to "just do it!"
Once you've used this technique to identify a high-probability niche for your spare time publishing biz, you're ready to get in there and get your hands dirty!
You can dream and imagine and plan all day, but success starts when you do.
If you haven't yet gotten moving on starting your publishing biz, start today. First use this technique to identify your niche. Then take the steps to get your business moving.

The Professional Writers' Alliance
At last, a professional organization that caters to the needs of direct-response industry writers. Find out how membership can change the course of your career. Learn More »

Published: September 29, 2009