AWAI Writing Challenge Honorable Mention:
Why L. Frank Baum is My Favorite Teacher

As unusual and unconventional as it sounds, my favorite teacher is the author L. Frank Baum. Often writers are the best teachers. They paint clear pictures with their words and it allows the reader to draw conclusions from their own frame of reference. It is an interactive learning. Authors don't always know what they may teach their audience but the power of words is endless. It is left to the reader's imagination and experience to guide them to what they will later discover.
L. Frank Baum actually wrote 13 sequels to the "The Wonderful Wizard of Oz" about living in the Land of Oz. I believe he had over 55 novels along with poems, short stories and other writings. Not just the movie fascinates me, but his personal life is a testament to staying true to creative endeavors. His parents sent him to military school at the age of 12 because he needed to "toughen up"; he was too much of a daydreamer. He struggled with businesses and always returned to the arts.
His full intention with "The Wonderful Wizard of Oz" was to compete with the Brothers Grimm and Hans Christian Anderson. L. Frank Baum wanted to write children stories about more modern, commoner children rather than gnomes, fairies, princes and princesses. Through the stories of L. Frank Baum and his personal experiences, it helps to teach me about the perseverance needed to follow a dream, especially writing, and keep going no matter what the obstacles are.
The movie, "The Wizard of Oz" was changed slightly from his story but the intention is still there. It is dedicated to the young at heart, which to me represents creativity, and the moral of learning to believe in your strengths and abilities to go after what you want. You don't need a "wizard" behind a curtain to produce instant fixes. It is the journey and following a dream that gives us the best lessons to learn from. ']
L. Frank Baum, in my opinion, is a legendary teacher that wrote a great story that became the one of the best movie of all times. This year, the Wizard of Oz movie, celebrates its 70th anniversary. A writer, whose story continues to evolve while bringing lessons and entertainment to generation after generation, is one of the best and a teacher that deserves to be labeled a favorite.
Work with the AWAI Team on a Real Writing Project!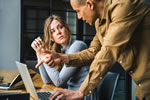 "Simulated Training" is AWAI's newest interactive learning where you get to work directly with AWAI's copy chief on a real writing project.
Not only will you experience what it's like to write for a real client — you'll learn what to do at every stage of the writing process … plus you'll get live personal feedback on your writing.
And right now, we're offering a limited number of spots FREE to members of our highest level of learning.
Go here now for full details …
Published: September 2, 2009