AWAI Writing Challenge:
Tell Us About Your Worst Job Ever

Here's the latest AWAI Writing Challenge …
Tell me about your worst job ever.
You're on track to having your BEST job ever – a working copywriter living the writer's life. But, for this essay let me know about the worst job you ever had. Thinking about it will make your success as a copywriter that much sweeter!
Send your 1,000-word (or less) essay to me at kyeakle@awaionline.com with "My Worst Job Ever" in the subject line.
One winner will be selected from all entries received. If it's you, you'll receive a $100 American Express gift card and have your essay published on the AWAI website. All entrants will be recognized and will get a special gift for participating.
Deadline: Sept 21, 2009
Look for the winning entry in the Sept. 24th issue of Inside AWAI.
Biggest Career-Boosting Event of the Year!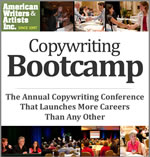 Get million-dollar industry secrets and cutting-edge techniques straight from the experts who created them …
Network with fellow writers of all levels and build a support team to keep you motivated and on track …
PLUS land new clients – or your first client – at our ultimate job fair for freelance writers …
Join us for our biggest writer's event of the year to get all this and more!
Published: September 3, 2009