Special Announcement …
Congratulations to Mike Palmer – AWAI's 2009 Copywriter of the Year
Each year, AWAI selects one copywriter who has succeeded in his or her niche and who has contributed to the continuing education and training of copywriters and marketers.
This year, AWAI is proud to name Mike Palmer, head copywriter for Stansberry Research, as its Copywriter of the Year.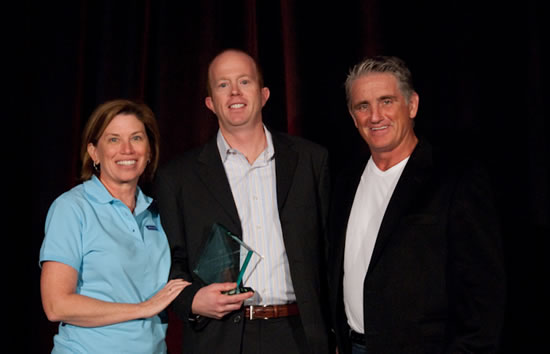 Mike Palmer with Katie Yeakle and Michael Masterson
Mike's stats are impressive. He's helped grow Stansberry Research into what is probably the biggest financial newsletter publisher in the world today.
Since 2002, Stansberry Research has mailed over 26 million promos written by him. When you add in his online efforts, Mike's copy has brought in over 400,000 paid subscribers.
Mike's most successful promotion is The Secret Currency, which has brought in 79,000 subscribers and total gross revenue of $5.2 million.
This year, Stansberry & Associates launched a new front end newsletter called Retirement Millionaire, which Mike wrote. As of today, Retirement Millionaire is approaching 40,000 subscribers.
As the writers Mike has trained are quick to point out, "those numbers show what Mike is directly responsible for. But, he's also built our copywriting team. He's trained and mentored about a dozen copywriters. So, he is indirectly responsible for a lot more than just what the numbers above show."
"As direct marketers, we're not supposed to care for awards or recognition, because everything we do is measured to the 'Nth' degree," said Palmer. "But the truth is, this award means a lot to me, especially considering the people who have won it in the past … and the competition. There are a lot of really good copywriters out there.
"Like most people, I stumbled onto copywriting by accident. I thought I wanted to be an engineer or scientist … or even a doctor. But in college I got bored studying all of those things.
"After school, I took all kinds of crazy jobs. I did a lot of temp work. One time I had to clean out a lady's poison ivy patch in her back yard. Another time I had to sort a hotel-size room full of clothing hangers, which were piled waist-high. I unloaded freezer trucks … and once had to help carry a toll-both three stories down in an underground garage.
"Thank goodness I found copywriting. It's the perfect job for an undecided misfit like me … and I still can't believe I get paid so well to do something that's so much fun and such an intellectual challenge every day.
"Of course, my friends and family still don't understand what I do. My sister thinks I work in copyright or patent law … and my dad (even though I've signed him up for every newsletter we publish), says: 'I don't get it … if you're such a hot-shot writer, how come I never see your name on anything.'"
"My one piece of advice for new copywriters is to (at the beginning at least), forget about the money, and just find a group of people you like, who know what the hell they are doing. Work for free if you have to … because if you hook up with the right people, it will make all the difference in the world.
Adds Mike: "There are so many people I owe thanks to in my career. Michael Masterson and Katie Yeakle and the rest of the folks at AWAI, for sure. And Bill Bonner and all the people at Agora, without a doubt. But what really made a big difference in my career was hooking up with Porter Stansberry, who taught me the secrets of the financial publishing world, and allowed me the freedom to create what I think is the best copywriting group in the world today."
Past winners of the AWAI Copywriter of the Year award include Bob Bly, Clayton Makepeace, Donna Doyle and John Forde.
Mike Palmer is the author of Secrets of the Irish Links and co-author with Michael Masterson of Copy Logic! The New Science of Producing Breakthrough Copy (Without Criticism!)

The Professional Writers' Alliance
At last, a professional organization that caters to the needs of direct-response industry writers. Find out how membership can change the course of your career. Learn More »

Published: November 12, 2009