Congratulations to William
Winner of a Sony PlayStation 3
AWAI is excited to announce William of Pomona, Queensland, the newest winner of AWAI's Commit to Achieve Your Goal in 2010 giveaway!
William will be presented with a brand new Sony PlayStation 3 – the next generation gaming system complete with a blu-ray disc player, offering crystal clear high-definition picture and theater-quality sound.
William's goal for 2010: I have written a book on the treatment and cure of musculoskeletal pain. My goal in 2010 is to get my book published.
Work with the AWAI Team on a Real Writing Project!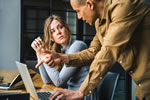 "Simulated Training" is AWAI's newest interactive learning where you get to work directly with AWAI's copy chief on a real writing project.
Not only will you experience what it's like to write for a real client — you'll learn what to do at every stage of the writing process … plus you'll get live personal feedback on your writing.
And right now, we're offering a limited number of spots FREE to members of our highest level of learning.
Go here now for full details …
Published: December 17, 2009