AWAI Writing Challenge:
My Perfect Day

Tell me about your perfect day. How does it start? How does it end? What makes it different than a not-so-perfect day?
Send your 1,000-word (or less) essay to me at kyeakle@awaionline.com with "My Perfect Day" in the subject line. If you send your submission as an attachment, please include your first and last name on the essay … not just the cover note.
One winner will be selected from all entries received. If it's you, you'll receive a $100 American Express gift card and have your essay published on the AWAI website.
All entrants will be recognized and will be sent a special gift for participating.
Deadline: Feb 21, 2010
Look for the winning entry in the Feb. 25th issue of Inside AWAI.
Work with the AWAI Team on a Real Writing Project!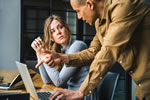 "Simulated Training" is AWAI's newest interactive learning where you get to work directly with AWAI's copy chief on a real writing project.
Not only will you experience what it's like to write for a real client — you'll learn what to do at every stage of the writing process … plus you'll get live personal feedback on your writing.
And right now, we're offering a limited number of spots FREE to members of our highest level of learning.
Go here now for full details …
Published: January 28, 2010