AWAI Writing Challenge:
My Perfect Day

Tell me about your perfect day. How does it start? How does it end? What makes it different than a not-so-perfect day?
Send your 1,000-word (or less) essay to me at kyeakle@awaionline.com with "My Perfect Day" in the subject line. If you send your submission as an attachment, please include your first and last name on the essay … not just the cover note.
One winner will be selected from all entries received. If it's you, you'll receive a $100 American Express gift card and have your essay published on the AWAI website.
All entrants will be recognized and will be sent a special gift for participating.
Deadline: Feb 21, 2010
Look for the winning entry in the Feb. 25th issue of Inside AWAI.
Biggest Career-Boosting Event of the Year!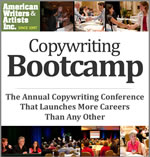 Get million-dollar industry secrets and cutting-edge techniques straight from the experts who created them …
Network with fellow writers of all levels and build a support team to keep you motivated and on track …
PLUS land new clients – or your first client – at our ultimate job fair for freelance writers …
Join us for our biggest writer's event of the year to get all this and more!
Published: January 28, 2010