My Secret Weapon for Writing Web Copy that Converts

Show don't tell …
Well I've told you all about this secret weapon of mine before.
But today for the first time I'm going to show it to you.
It's actually kind of embarrassing, because you'll see how much I rely on it …
Not only when I'm writing, but when I'm teaching web writers and marketers who have to write web copy too.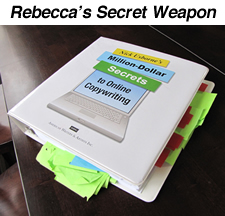 That's right, it's my personal marked up copy of Nick Usborne's Copywriting 2.0: Your Complete Guide to Writing Web Copy that Converts (formerly called Nick Usborne's Million-Dollar Secrets to Online Copywriting.)
In the program, Nick breaks down successful landing pages, information pages, subscription pages, etc., so that you know the difference between them, and know exactly how to write each one.
Plus, he shows you how to write promotion emails, acknowledgement and follow-up emails, customer services emails, e-newsletters, and blog entries.
When I first got my copy, I quickly read it from beginning to end, all the while planning to come back and "absorb" the information later.
But when I finished it, I realized I didn't need to do that. I could use it as a reference tool instead …
The first time I wrote an information page by myself, I re-read pages 130-134, wrote the copy I needed, and marked the section of the program with a sticky note so I could go back every time I need to write one in the future.
Then I re-wrote the AWAI homepage, so I re-read pages 63-85 and marked them with a sticky note too.
The subscription page for Wealthy Web Writer? That's right. Another sticky note on page 114.
As you can see I use the program quite a bit.
I use it when I write for AWAI …
I use it when I write for Wealthy Web Writer …
Heck, I even use it when I write for my money-making website!
That's why in my opinion, next to AWAI's Accelerated Six-Figure Copywriting Program, Copywriting 2.0 is one program that you NEED in your library.
Even if you're buried in another program, don't worry. Remember, you can use this one as a reference when you land an assignment. It's not written to be studied and memorized.
And since I'm telling you that you need to get this program, I'm going to make it even sweeter for you to order today …
Order it now and you'll immediately save $100. But there's more to this special offer … and this part is way more valuable than the discount!
You see the program shows you how to write copy for the web, but you and I both know that having the skills to write web copy is only half of it …
You also need to know how to make money doing it!
So if you sign up today, you'll also get access to a special webinar Nick is hosting on Thursday titled: Four Strategies for Increasing the Money You Make from Every Project You Do
You already know it takes significant time and effort to secure a new freelance writing project. So once you land one, it only make sense that you set yourself up to make much money as possible from it.
That's why Nick is going to share four separate strategies with you, each focused on increasing the money you make from every new project you do.
Order your copy of Copywriting 2.0: Your Complete Guide to Writing Web Copy that Converts right now.
You'll immediately save $100 and get access to Nick's exclusive webinar – free.
And by Friday you'll have the skills to write website copy, AND know how to make the most money from each client you work with.

The Professional Writers' Alliance
At last, a professional organization that caters to the needs of direct-response industry writers. Find out how membership can change the course of your career. Learn More »

Published: February 3, 2010