AWAI Writing Challenge:
Tell Us About Your Best Road Trip Ever

What made your best road trip memorable? Where did you go? Was it the destination or the road trip itself that made it your "best"? Did you get sidetracked and venture off the beaten path? Encounter interesting people along the way?
Or maybe it was because of who you took the trip with.
Email your 1,000 word (or less) essay to me at kyeakle@awaionline.com with "My best road trip ever" in the subject line.
One winner will be selected from all entries received. If it's you, you'll receive a $100 American Express gift card and have your essay published on the AWAI website.
All entrants will be recognized and will be sent a special gift for participating.
Deadline: April 25, 2010
Look for the winning entry in the April 28 issue of Inside AWAI.
Work with the AWAI Team on a Real Writing Project!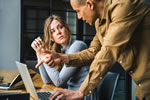 "Simulated Training" is AWAI's newest interactive learning where you get to work directly with AWAI's copy chief on a real writing project.
Not only will you experience what it's like to write for a real client — you'll learn what to do at every stage of the writing process … plus you'll get live personal feedback on your writing.
And right now, we're offering a limited number of spots FREE to members of our highest level of learning.
Go here now for full details …
Published: March 25, 2010