AWAI Writing Challenge:
Tell Me About Your Favorite Summer Pastime

Memorial Day weekend is seen by many as the official kick-off to summer. If you're further north than we are here at AWAI headquarters in Delray Beach, the weather may be just warming up enough to engage in your favorite summer activities. Time to break out the bike, the kayak, the beach chair, picnic basket, or whatever makes summer special for you.
I'd love to hear about it. What's your favorite summer activity? How does it energize you? Where do you go to do it? Does it inspire your writing?
Send your 1,000-word (or less) essay to me at kyeakle@awaionline.com with "My favorite summer activity" in the subject line. IMPORTANT: Include your name on the attached document itself, not just in the email. (Entries without names on the document will be disqualified.)
One winner will be selected from all entries received. If it's you, you'll receive a $100 American Express gift card and have your essay published on the AWAI website.
All entrants will be recognized and will be sent a special gift for participating.
Deadline: Sunday, June 20, 2010
Look for the winning entry in the June 24 issue of Inside AWAI.
Work with the AWAI Team on a Real Writing Project!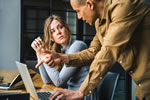 "Simulated Training" is AWAI's newest interactive learning where you get to work directly with AWAI's copy chief on a real writing project.
Not only will you experience what it's like to write for a real client — you'll learn what to do at every stage of the writing process … plus you'll get live personal feedback on your writing.
And right now, we're offering a limited number of spots FREE to members of our highest level of learning.
Go here now for full details …
Published: May 27, 2010