How I Celebrate and Reward My Copywriting Achievements in Style

With wine and hope, anything is possible.
– Spanish proverb
"It is done. There's no turning back," I thought to myself.
I had just turned in my two-week notice at work. I was now officially a full-time freelancer.
Strangely enough, I felt a great sense of peace. Maybe it was the lovely wine I was swirling in my glass.
But, it was much more than that. Over the last three years, I had given up most of my free time to learn the art of copywriting and launch a part-time copywriting business. Working the business nights and weekends meant time away from my wife and young son.
It was hard. Sometimes, downright exhausting. But, it had finally paid off. I now had great clients, a steady flow of work, and the ability to chart my own course.
The wine I was now enjoying was a symbol of my achievement — and of the hard work, sacrifice, perseverance, and tenacity it took to get here.
Not to mention a great way to celebrate the beginning of an exciting journey!
A Great Motivator
As a lover of fermented grape juice and a self-proclaimed wine geek, great wines are a big motivator for me. I've been using them to mark momentous occasions and to reward myself for achieving personal and business goals.
This unorthodox (okay, so it's just plain twisted; I admit it!) practice began back in my days as a sales professional. Meeting my constantly-rising quotas was no easy task. Yet, the pressure to perform was intense. So, I began to reward myself every time I met or exceeded my numbers by buying and enjoying a very nice (and often rare) bottle of wine.
Not only did this reward mechanism motivate me to do my very best, it also infused a great deal of emotion and joy into my accomplishments. So much so, in fact, that I can often still recall what specific wine I poured to celebrate an achievement from as far back as nine years ago.
What follows is a little trip down Memory Lane — a brief account of how I celebrated some of the biggest milestones of my copywriting career … and why I chose the wines I did.
Landing My First Client: 1964 Inglenook Rutherford (California)
Long before reaching this milestone, I recognized that landing my first client would signify my official entry into the world of freelance copywriting. It's the kind of milestone that deserved a very special bottle. Which is why I chose an old Inglenook Cabernet.
The Inglenook winery no longer exists. Filmmaker Francis Ford Coppola bought it a few years back and rolled it into his Niebaum-Coppola winery. Yet, from the 1930s up to 1964, these folks made some of the best Cabernets that California has ever produced. The owner at the time, John Daniel, spared no expense to make world-class wines.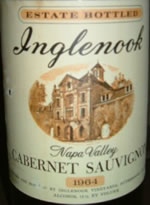 And world-class wines they were. In fact, no one has been able to duplicate this effort since then. And no one probably ever will, because Inglenook's famed winemaker, George Deuer, destroyed all his winemaking notes in a fit of rage in 1964, right after learning that Daniel had been forced to sell the winery because of financial hardship.
Some of the wines from the John Daniel era are still around. I was lucky enough to get a hold of one a few years back. And, even though the 1964 still had quite a bit to show, it was quickly fading and certainly past its peak.
But that didn't matter. I felt blessed to be able to experience one of John Daniel's masterpieces — a bit of history carefully crafted by folks who are no longer with us, yet speak to us through their wine.
The memory of that wonderful wine will always stay with me.
One-Year Anniversary: 1998 Williams Selyem Hirsch Vineyard Pinot Noir (California)
On the one-year anniversary of being self-employed, my wife and I celebrated with a fine meal and a bottle of 1998 Williams Selyem Hirsch Vineyard Pinot Noir.
Besides the fact that Williams Selyem wines are fantastic, I love the backstory. Founders Burt Williams and Ed Selyem were hobbyists. They were part-time winemakers who worked on their craft every weekend out of a garage.
Here's the best part: Ed and Burt had no formal training as winemakers. Yet, this unlikely pair of wine geeks produced what are still considered some of the best Pinot Noirs ever made in the United States, and are credited with setting a new standard for winemaking with this variety of grape.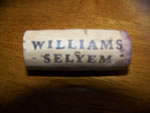 As someone who studied and practiced the art of copywriting for years during my spare time, this story resonates with me.
When I first learned about Williams Selyem wines in the 1990s, they were already legendary. But, I couldn't afford them. Even if I could, they were impossible to find. The wines had achieved cult-like status, and the only way to get them was through the company's mailing list.
But, almost a year after going out on my own as a copywriter, I got hold of three bottles of this magical juice in a wine auction. Savoring the '98 Hirsch Pinot was pure bliss. A very appropriate way to mark my one-year anniversary as a self-employed professional.
Out of a Slump: 1985 Pesquera (Ribera del Duero, Spain)
In the 1970s, Spain's Ribera del Duero wine region was struggling with an image problem. Outside of the famed Vega Sicilia winery, the region's wines were unpopular and uninspiring.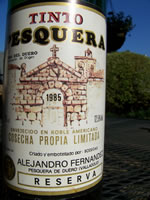 It was around this time that winemaker Alejandro Fernandez — owner of the Pesquera winery — began to take a new approach to winemaking. This approach resulted in fresher, livelier, fruitier renditions of the region's main grape, tempranillo.
Although controversial at the time, Fernandez's winemaking techniques increased quality and consistency. They helped Pesquera become a big international sensation in the 1980s and helped turn around the Ribera del Duero, making it into the world-class region it is today.
That's why I chose a 1985 Pesquera to celebrate a big turnaround in my business a couple of years ago. I had just lost a major client unexpectedly and was struggling to fill that gap. The stock market was in the dumps. Merrill Lynch and Lehman Brothers had just gone under. Things weren't looking good.
But then, out of nowhere, I found a client that had a need for a tremendous amount of copy and content to be written over the next year. The work was right up my alley, and the people were fantastic.
Oh, and get this — the first project was worth more than $17,000! Reason enough to pull the cork on the 1985 Pesquera, a special bottle I had been saving for such an occasion.
Landing My First Book Deal: 1985 Robert Mondavi Cabernet Sauvignon Napa Valley
In March of 2009, my colleagues Steve Slaunwhite, Pete Savage, and I landed a deal with Penguin Group, the world's second-largest book publisher, to write The Wealthy Freelancer: 12 Secrets to a Great Income and an Enviable Lifestyle.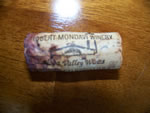 It took days for this victory to fully set in. And when it finally did, I marked the occasion by throwing some New York strips on the grill and pouring a 1985 Robert Mondavi Napa Valley Cabernet Sauvignon.
Robert Mondavi took great risks in the 1960s when he built his winery. He was already in his 50s. He had little capital. And Americans were decades away from being able to appreciate fine wine.
Yet, Mondavi dared to dream big. And his bet paid off. The Robert Mondavi Winery became one of California's best premium wine producers. And today, Mondavi is often credited with making Napa Valley a huge force in the global wine world.
I love Mondavi's entrepreneurial, can-do spirit. His 1985 Napa Valley Cabernet — one of California's best vintages in the last 30 years — seemed like an appropriate way to celebrate one of my biggest professional accomplishments.
Quitting My Day Job: 1991 Niebaum-Coppola Rubicon
Which brings me to the gorgeous wine swirling in my glass four years ago, the day I finally left Corporate America to become a full-time freelancer. It was a 1991 Niebaum-Coppola Rubicon — a terrific Bordeaux-style red wine from Napa Valley.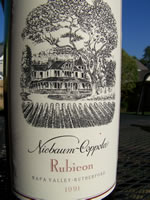 Rubicon is one of my all-time favorite wines. Not only is it absolutely yummy, it also has a special meaning to me, which is why I picked that bottle to mark this big turning point in my life.
You see, Rubicon is the name of a river in Italy that marked the boundary between the Roman province of Cisalpine Gaul to the north and Italy proper to the south. When Julius Caesar crossed the Rubicon with his army in 49 B.C. to make his way to Rome, he broke an ancient Roman law, making armed conflict inevitable. Once he crossed the river, Caesar knew he was fully committed. That's when he uttered the famous phrase ālea iacta est ("the die is cast").
Once I crossed my own "Rubicon," I recognized there was no turning back. I knew this was it — the chance to carve my own road, to see what I could make of myself.
Yet, thanks to all my preparation, hard work, and perseverance — and a bit of "liquid courage" from that great wine — I knew that success was mine.

The Professional Writers' Alliance
At last, a professional organization that caters to the needs of direct-response industry writers. Find out how membership can change the course of your career. Learn More »

Published: July 6, 2010