Announcing …
Live the Writer's Life Contest
What does living the writer's life mean to you?
Having more control over your financial future … Spending more time with your family … Having more time to travel … Having a flexible schedule … Working at home … Living where you want … Working when you want …
Maybe all of the above?
Whatever the answer is, we want to hear from you!
Introducing the Live the Writer's Life Contest …
Starting today, AWAI is running a fun and friendly video contest – all you have to do is submit a 1-2 minute video explaining what the writer's life means to you.
Five lucky winners will be randomly chosen to receive $250 AMEX gift cards.
And all entrants will be featured on the AWAI and received special gift for participating.
How to Enter
Step 1: Film your video!
Be sure to check out the pointers below from Jessica Kizorek, AWAI's video-marketing expert.
Step 2: Upload your video to YouTube.
If you already have a YouTube account, login to YouTube and join our group, AWAI's "Live the Writer's Life" Video Contest. Then upload your video to the group.
If you don't already have a YouTube account, you'll need to set one up before joining our group and uploading your video.
Step 3: Let us know you've uploaded your video.
Send us an email at writerslifevideocontest@awaionline.com with "Video Contest Submission" in the subject line. Please tell us your name, your email address, your YouTube user name, and a daytime phone number where we can reach you if we have any questions.
Deadline: Aug. 1, 2010
Good luck and have fun!
To learn how to find a new career, make extra money, or work at home sign up for The Writer's Life, a FREE weekly eletter from AWAI that gives you access to the tools, people, and action plans that can help you make your dreams of living the writer's life a reality.
Now … here are some helpful tips from Jessica …
6 Tips for Creating a Good Video Submission

Stay focused. Before you turn your camera on, think of three things you want to get across. Spontaneity is great, but you want to be clear and focused with what you're communicating. I suggest telling one specific story – a vivid moment in time that truly illustrates how awesome your life is because of AWAI.
Start with a good hook. If you want someone's attention, you need to "hook it." Similar to a headline and lead in a sales letter, the first 10 seconds of your video will either grab your prospect's attention or cause them to stop watching and move on to something else. Say something gripping, provocative, intriguing … anything that will have the viewer lean closer to his computer screen and wait in anticipation to see the rest of the video.
Be enthusiastic. There's nothing worse than a boring, monotone "talking head." So do a couple jumping jacks before you turn the camera on, so that your blood is pumping and you look alive! Use your eyes, shoulders, and hands to express your excitement!
Make eye contact. Look straight into the camera when you're recording, so the viewer feels as if you're talking directly to him. The Internet is so full of distraction, and it's really easy to simply lose interest and close down a video. Capture the viewer's attention with your eyes, and keep him engaged in what you have to say by talking directly to him.
Illuminate your face and speak up! Grab a light and illuminate your face. This will bring your features to life, and keep people's eyes on you rather than anything in the background. For this type of video (in which you're talking to the camera), you want to get pretty close, so your face fills up the screen. Use a good microphone – there's nothing I find more annoying than struggling to hear. Make it easy for people to see and hear you, because that's where you'll tap into maximum impact.
Keep it short. The average online attention span lasts about 2-3 minutes. The viewer is thinking, "Get to the point, say it with pizzazz, and then let me go back to what I was doing."
You can also watch two short videos from Jessica here:
Six Tips for Creating a Good Video for AWAI's Video Contest
Get Pumped Up for the AWAI Video Contest
---
Biggest Career-Boosting Event of the Year!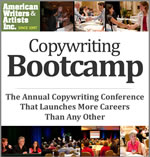 Get million-dollar industry secrets and cutting-edge techniques straight from the experts who created them …
Network with fellow writers of all levels and build a support team to keep you motivated and on track …
PLUS land new clients – or your first client – at our ultimate job fair for freelance writers …
Join us for our biggest writer's event of the year to get all this and more!
Published: July 19, 2010