Making Omelets, Breaking Eggs and Sexist Ads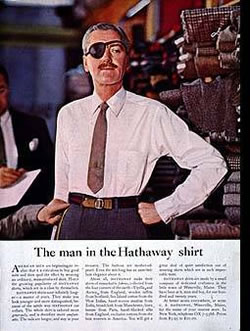 Katie sent me some of the comments given by Golden Thread readers of an essay I wrote on " The Most Interesting Man in the World."
The ad reminded me of David Ogilvy's classic advertisement campaign for Hathaway Shirts. It propelled Hathaway from a local company with no reputation at all to the most recognized shirt brand in America.
I said that while the Dos Equis ad was in many ways a creative knockoff, it fell short of the Ogilvy classic by failing to make the brand name itself a prominent feature of the commercial.
For Ogilvy, the name of the product was critical. It was so important to him that he put the brand name in almost all of his headlines.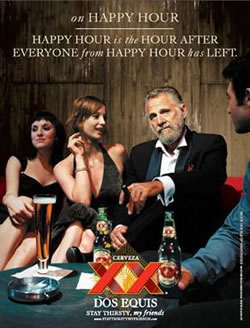 One reader, Christine, had this to say: "While this may have worked for a men's shirt in Ogilvy's day this present ad "The Most Interesting Man in the World" is disgusting and painful to watch.
She found it "offensive to women." Besides the content (a bearded man surrounded by beautiful women) it suggests, she said, that women don't drink beer when they do.
Christine says she would "go out of (her) way NOT to buy this beer."
"Some ads are just too offensive. Copying old 'Mad Men' ads per se without a few updates is 'madness.' If I were this guy's wife and I found this beer in the fridge, I would throw it out! Let's get 21st century."
I think it's interesting that Christine imagines herself married to "this guy." Is it possible that the most interesting man in the world got her pulse racing, even though she objects to his image?
That's the thing about edgy advertising. It offends as many people as it attracts. But does that mean it shouldn't be done?
It reminds me of the scene from Howard Stern's movie, Private Parts. Pig Vomit, the network executive who has been trying to get Stern fired, finds out that the ratings for his show have shot sky high, despite his puerile, offensive-to-some humor.
"Howard's fans," he is told, "listen to him for two and a half hours."
"Well what about all the people who hate him?" he asks.
The researcher looks at his notes, "People who hate him listen to him for five hours."
There is no question that if you want to grab attention, being outrageous is an effective tactic. But the question still needs to be asked: How far should you be willing to go to sell your product?
What boundaries, if any, should you be willing to cross? Is it okay to be sexist if it sells more beer?
Moral issues aside, the criterion for making such a decision has to be the advertisement's effect on sales. Looks like Dos Equis made the right decision:
According to Dos Equis brand manager Ryan V. Thompson, since Dos Equis introduced The Most Interesting Man in the World in 2006, sales have shot up significantly every year, leaping 26% since January alone. He recently told Austin Carr of FastCompany.com. "We're now the fastest growing beer import in the country."
To create breakthrough-advertising campaigns you must be willing to break through convention. You have to be willing to offend some people so long as the increase in sales that you stimulate is greater than any loss of business you get from the offense.
It's not that you want to offend anyone. You don't. But you recognize that in a world as diverse and opinionated as ours is, some breakthrough ads will offend.
Elsewhere I have explained that the two greatest vices of a marketer are laziness and egotism. And the two greatest virtues are empathy and courage.
You must be empathetic enough to understand what your core customers think and feel and believe (their Core Complex). And, then you must have the courage to use that empathy to create an ad that tells them you understand.
That, in my view, is what the Dos Equis commercial does. It "gets" guys. And it has the courage to tap into what motivates them most of the time. It's not sex, by the way. And it's not the objectification of women. It's much more about a man's relationship with other men. Thus, the most interesting man in the world.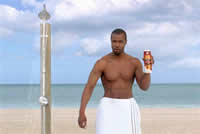 It reminds me very much of the new viral marketing campaign to sell Old Spice. In that, ex-football player Isaiah Mustafa stands topless, showing off his six-pack, promising women "he's the man your man could smell like."
Last time I checked the original ad had attracted 13 million hits.
Christine's mistake, if I can judge from her short message, was that she let her own feelings and thoughts and beliefs (her own core complex) interfere with her ability to see this ad for what it is.
It's no more sexist than the Old Spice campaign. It's clever. It's compelling. And it's full of self-referential humor.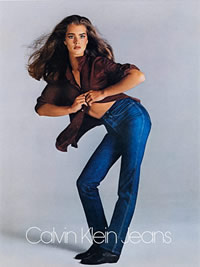 If Christine thinks this ad is offensive, what must she think of the blue-jeans ads that Calvin Klein introduced in 1980. Older readers will remember the 15-year-old Brooke Shields telling the world that "nothing comes between me and my Calvins." People were offended by the millions. But the campaign not only put Calvin Klein on top of the heap, but also virtually created the multibillion-dollar designer jeans market.
There is something else that needs to be understood about this ad. It not really about attracting women per se, but about becoming more interesting than other men. Men are very competitive. And in the world of wooing women, their desire to compete is at its evolutionary height. The liminal* promise of the ad is a competitive one: to be more interesting than other men. Yes, the payoff is being surrounded by beautiful women. But the real issue is other men.
Marketers of women's clothing sometimes make the same mistake. They incorrectly believe women dress to impress or entice men, when in fact they dress to impress and entice other women.
The point I'm getting to is this: if you are empathetic enough to really understand what motivates your core customers at a very basic level, then you will be able to create outrageous, breakthrough ads that work.
Ask yourself: what is it that my customer really wants?
And don't be satisfied with the first or second answer that pops in your head. Spend some time thinking or talking about his core emotions. Figure out what he desires, what he thinks and what he believes.
And finally, don't forget about the product. It's great to get the attention you want but you don't want to forget the product.
Here are some other comments on the essay:
"Excellent. Michael Masterson is spot on about the Dos Equis ads. I love the ad but am always left wanting to know what the product is. I had to actually force myself to concentrate on the commercial so I could know what the product is. Further I enjoyed the Golden Thread example. I've been struggling with that in my writing but with this concise example I now fully understand the Golden Thread." – Shawn Maus
"Excellent. Inspiring and great information!! I will read this article a dozen times and when I get home. I will pull out my AWAI books and start changing my career … with results this time!" – E.Oneill
"Excellent. WOW I love those Commercials so that was number one when I saw "SAW" the "GUY" I was compelled to read on and now I understand some more about this business I love but never knew how much until this article." – Dan Slaughter Jr
"Excellent. Great article Michael. Makes perfect sense and a very interesting insight into David Ogilvy as well!" – Gus G.
"Excellent. What a gift … Thank you Michael!!! There is so much marketing wisdom in this simple article … Thank you for sharing so generously." – Laurie Attwood
"Excellent. Very Interesting and informative. Also reminiscent of Commander Whitehead's beard. " – Mike Rodriguez

"Excellent. What a wonderful and insightful piece! You have written this piece like a good painter that paint work of art you are the masters. The sequence from thought to purchase and how to influence elegantly if there is such a word." – Avihu Kiselstein
YOU'RE INVITED to continue this discussion with Michael at this year's FastTrack to Copywriting Success Bootacmp and Job Fair.
Anything else you want to talk to him about? You'll have plenty of opportunities during the 3-day event. Plus, you'll have access to Bob Bly, John Forde, Ted Nicholas, Bill Bonner and the dozen other master copywriters and marketers who will be there … ready and eager to share their experiences and strategies with you.
The Early-Bird registration ends next week … so make your plans today to join us in Delray Beach, FL Nov 3 -6th.
*Ed Note: In case you're curious about the meaning of the word "liminal", it means just at the edge of consciousness. It's not to be confused with "subliminal," which means just below the threshold of consciousness.

The Professional Writers' Alliance
At last, a professional organization that caters to the needs of direct-response industry writers. Find out how membership can change the course of your career. Learn More »

Published: August 23, 2010