Announcing AWAI's "Got it Done" Challenge

It started at Bootcamp … as a challenge to the attendees to take actions based on what they were learning and who they were meeting.
The response was very impressive so we're going to keep it going …
Starting today … and for the next 7 days … write down every action you take that has or will have a positive and forward-moving impact on your writing career.
Post each "got it done" as a comment below. You'll get public recognition for taking action … and we'll give away some fun prizes too.
Your Path Now Versus What it Could Be: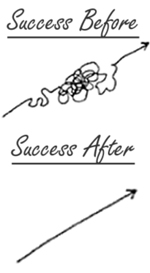 Nothing gives you a "straight shot" at success like Circle of Success.
We help you set goals … give you a personalized learning path … coaches and mentors … prime writing assignments … feedback from real copywriters … free Bootcamp, with VIP treatment … even a chance to work pro writers … and more.
Right now, we're accepting a limited number of new Circle of Success members.
Get the details here — including our low "get started" price.
Published: November 11, 2010