Special Announcement …
Congratulations to AWAI's Latest $10K Challenge Winner …
At Bootcamp last week, AWAI Co-Managing Partner, Rebecca Matter announced the newest winner of AWAI's "$10K Spec Challenge."
And the winner is …
Roy Furr from Ames, Iowa!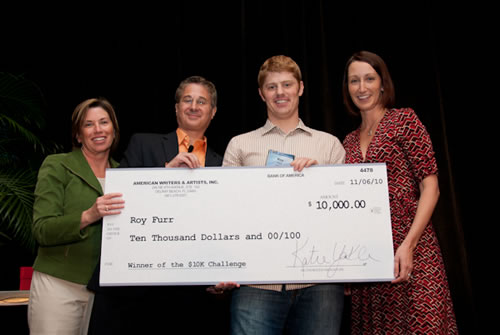 According to Rebecca,
"Roy is a person who has all the qualities of what I believe to be a dream copywriter …

He always meets his deadlines. In fact, sometimes he submits his work early.

He's an idea machine … he's always thinking about ways to make my life easier … or make the AWAI business better.

He takes the time to learn how the copy will be used, and thoroughly gets to know the product he's promoting firsthand, before writing a word of copy.

And he's ALWAYS pitching me something new. You may think that would be a negative, but as a busy marketer, it's a blessing. He always has a new project that I should consider doing – oh and by the way, he's the guy to do it.

He deserves this award and I feel honored to present him with it."
When asked how he feels to be the 2010 10K Challenge Winner, Roy replied with:
"I'm thankful and excited! Winning the $10K Challenge feels like validation of how far I've come in my copywriting career, and especially in the last year since attending my first Bootcamp in 2009.

Last year I was working full-time with no definite plan to go freelance. Within 3-months, 3-days of returning home I did it – I quit my job and started my freelance career. And the 9 months or so since then things have really taken off. Now I hope to use my future projects with AWAI to help other copywriters have the same success!"
He went on to tell his fellow Bootcamp attendees …
"I didn't do anything magical to stand out and win the $10K Challenge this year. Just about everything I did, in fact, is repeatable by other copywriters who want to win this next year. When you work, work hard. Always be learning, from books, AWAI products, seminars, and by talking with and listening to your clients. Set deadlines and keep them. Stay in touch with new ideas. And try to be easy to work with.

Do these things and you'll surprisingly put yourself in the top few percent of any profession – especially copywriting. If you want to be next year's $10K Challenge winner, you ought to write out this list, put it on your wall, and refer to it daily. As for me, I'm going to keep on doing these things and making bigger and better things happen … There's a whole new world in front of me!"
Roy is living proof that AWAI members can accomplish their dreams of living the writer's life if they're willing to work for it.

The Professional Writers' Alliance
At last, a professional organization that caters to the needs of direct-response industry writers. Find out how membership can change the course of your career. Learn More »

Published: November 8, 2010