Special Announcement …
Congratulations to Mary Drescher
Winner of the Flip HD Camcorder
AWAI is happy to announce the newest winner of AWAI's Commit to Achieve Your Goal in 2011 giveaway!
Mary Drescher will be recording memories with a new high-definition camcorder – the Flip HD Camcorder is the perfect tool for capturing any moment.
Home movies become masterpieces with vibrant color and unsurpassed clarity and resolution in HD! The Flip HD Camcorder has an ultracompact design; flip-out USB interface; and built-in editing and sharing software. It is simple to use and has a 120-minute recording time.
This giveaway encourages you to make the commitment to your success, and at the same time gives you the opportunity to win some really fun prizes!
Mary's goal for 2011: "2011 will be the year I start my direct-mail design business and quit commuting one hour each way for very little pay."
Enter to win one of our fun prizes here, and make your own dreams reality!
Work with the AWAI Team on a Real Writing Project!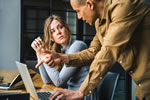 "Simulated Training" is AWAI's newest interactive learning where you get to work directly with AWAI's copy chief on a real writing project.
Not only will you experience what it's like to write for a real client — you'll learn what to do at every stage of the writing process … plus you'll get live personal feedback on your writing.
And right now, we're offering a limited number of spots FREE to members of our highest level of learning.
Go here now for full details …
Published: December 16, 2010