Special Announcement …
Congratulations to Adrienne
Winner of the iPod Touch
AWAI is happy to announce the newest winner of AWAI's Commit to Achieve Your Goal in 2011 giveaway!
Adrienne will be enjoying the convenient features of her new Apple iPod Touch, right out of the box!
iPod Touch is a great iPod, a great pocket computer, and a great portable game player. Listen to a mix of songs automatically put together by the new Genius Mixes feature. Watch a movie. Surf the web. View rich HTML email. Find your location and get directions with Google Maps. Discover games and apps you're sure to love with new Genius recommendations for apps.
This giveaway encourages you to make the commitment to your success, and at the same time gives you the opportunity to win some really fun prizes!
Adrienne's goal for 2011: "To lose the baby weight AND start my own online business."
Enter to win one of our fun prizes here, and make your own dreams reality!
Work with the AWAI Team on a Real Writing Project!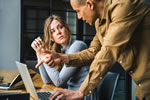 "Simulated Training" is AWAI's newest interactive learning where you get to work directly with AWAI's copy chief on a real writing project.
Not only will you experience what it's like to write for a real client — you'll learn what to do at every stage of the writing process … plus you'll get live personal feedback on your writing.
And right now, we're offering a limited number of spots FREE to members of our highest level of learning.
Go here now for full details …
Published: December 23, 2010