Lessons from a Pop Princess: How to Grab – And Keep – Control During Client Negotiations

Years ago, I had a friend who was a huge Janet Jackson fan … and I mean HUGE.
We're talking albums, posters, concert tickets, you name it. And needless to say, whenever we were hanging out, Miss Jackson was pumping from the speakers.
Now, this was the "pre-wardrobe malfunction" Janet, a period during the '80s when she was young, hungry and trying to wedge her way into the same pop charts that her brother (guy named Michael – maybe you've heard of him) was dominating.
So if she was to establish herself as a serious player, the music – and her new image – had to be truly groundbreaking. And that's when Janet released an album called "Control".
"Control" was all about her taking charge of her life and career. It was an instant smash, selling 14 million copies and spawning five top 10 hits. And just like that, Janet Jackson was no longer "Michael's little sister". She was a force to be reckoned with.
So why the music history lesson? Simple – because your success as an autoresponder copywriter has a lot to do with control – whether you have it or you don't.
Let me explain …
When a potential client approaches you for a possible project, usually the first words out of their mouth are, "How much do you charge?"
Sounds like a straightforward question, right? And it makes sense, since entrepreneurs and small business owners are always looking to get the most impact from their marketing buck.
But if you look deeper, there's something else going on here …
The potential client isn't just asking for prices. They're trying to seize control right off the bat. Control of the conversation, the questions, and eventually the payment terms. And if you give in from the very start, you'll most likely be killing your chances of a sizable paycheck.
This is a ploy that many marketers have down to a science. Because they know that most newbie copywriters are desperate for work. And these copywriters will do anything to be in a conversation such as this.
So the copywriter is willing to give up their control from the get-go, and let the client pull all the strings. And this is the absolute best way possible to shoot your autoresponder copywriting career right in the foot.
Why? Because if the client calls the shots, you'll never get paid what you're worth, have the time you need to finish projects, or have any real clout in the final direction of the email messages. You'll be a sub-level employee – not a valued marketing consultant – and they'll treat you accordingly.
When you immediately give up control, they have all the balls in their court, and you're simply running around, trying to appease them at every turn.
The result? You guessed it – a mediocre campaign that does little for the client (and even less for you). Which means they move on to find a different sucker to write their copy, and you're back to square one, searching for another client.
So how do we avoid this? Easy – we take control from the VERY BEGINNING. And that means not biting when the "How much do you charge?" bait is tossed your way.
Here's how we do it …
Instead of blurting out your prices while introductions are still hanging in the air, come back strong with a statement such as this:
"Actually, I don't have a fixed price schedule for every project. I custom-tailor each and every email and autoresponder campaign to the specific goals of my clients, so they make the biggest impact possible. What sort of email marketing are you doing currently … ?"
Did you see what happened here? Instead of them asking the questions and being in the driver's seat, you've grabbed the wheel and are steering the conversation in the direction YOU want – not them.
Now they're answering your questions and giving you valuable information about their business. And all the while, you're formulating a plan in your head to keep the conversation moving towards a proposal (and eventually a deal).
This is a position of power, and it works to your advantage. Because with that one statement you just made, you've established yourself as a professional autoresponder copywriter. Someone who knows their stuff and can easily create a series that's persuasive and profitable.
You're not just a gun for hire – you're someone to be reckoned with. And you're holding your ground.
So what happens if they press on the pricing issue? Again, they're battling for control here. They see that you're not an immediate pushover, but they're not convinced of your mettle just yet.
So stand firm and don't give in! In fact, I like to use a little humor to help defuse the situation. Maybe something like:
"One MEEEELION dollars! (laughs) No really, it all depends on what my client needs. Sometimes it's a few emails, sometimes a lengthy series, but every campaign is geared towards the same thing – getting the prospect to click on a link and get back to the sales page so they have another opportunity to buy. And we've seen some really impressive results. For example, one of my clients … "
Notice what I did there? I steered the conversation completely away from pricing again, and focused more on what their goals are. Then I led them into a testimonial from one of my clients, which is a KILLER way to sell your services – especially if the potential client is in the same niche.
See how easy this is?
You don't have to be dragged through the ringer with client after client, writing your email and autoresponders for pennies and never getting to the place you really want to be in your career.
You CAN take charge from the very start, and make the kind of money (and get the type of respect) you should be earning right out of the gate.
It's all about control. Just ask Janet. ;)
Now GO GET IT!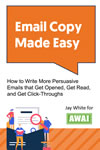 Email Copy Made Easy: How to Write More Persuasive Emails That Get Opened, Get Read, and Get Click-Throughs
Learn to write emails that drive people to take action, and take advantage of the fastest way to make a living as a writer. Learn More »

Published: March 18, 2011