The #1 Copy Factor That Determines Whether Your Autoresponder Gets Read – Or Deleted

Over the years as an email and autoresponder copywriter, I've seen a lot of "techniques" come and go …
And I say "techniques" with tongue planted firmly in cheek. Because most of them were not really techniques at all. They were gimmicks, plain and simple.
You know what I'm talking about. They hit your inbox by the dozens. Emails with nothing but links … grotesque formatting issues … hundreds of blank spaces before you get to the unsubscribe (if there even is one) … rows and rows of deafening all-cap sentences … more exclamation points than a 19-page comic book fight sequence between Batman and the Joker … the list goes on and on.
All of these gimmicks are geared to do one thing and one thing only: keep you reading and not deleting. And I must admit – although horribly misguided – it's a valiant try.
But here's what bugs me most: the actual copy of these emails seems to be an afterthought. For "marketers" such as these (again, tongue back in cheek) content really doesn't matter. It's about the numbers. Send millions of spam messages, get a tiny percentage of return. Copy be damned.
But we're not in this business. We're actually trying to provide our clients with stellar email and autoresponder copy. The kind that builds relationships, drives sales, and creates more copywriting opportunities (and bigger profits) for all of us.
So when budding young copywriters ask me for the one single element that will make or break their autoresponder emails, I can basically sum it up in 2 words:
I call it the "Lean In". And here's how it works …
Imagine an early-morning gathering at your workplace. Might be the water cooler, coffee machine or munchie stop – any location where a few people come together for a couple of minutes before heading off to their desks.
Usually during this gathering, the typical corporate gossip will start to emerge. Who's getting promoted, who was seen having lunch with a married co-worker, who's extra crabby and should be avoided that day … blah, blah, blah.
Now, picture yourself saying these words:
"Oh man, you wouldn't BELIEVE what happened to me on the way to work today."
What's the immediate response?
That's right – everyone gets quiet, stops what they were doing, looks directly at you …
… and LEANS IN.
Why? Because with that one line, you've completely set yourself up to continue with something interesting … something that will engage your audience for the next few moments and keep them there.
Could be funny. Sad. Shocking. Revolting. It doesn't matter. What DOES matter is that you've got their complete attention in the palm of your hands. And it's yours to do with as you please.
You see, we're basically a bunch of Nosey Parkers. We gotta have the scoop, all the scoop, and nothing but the scoop. That's why rag mags like the Enquirer and the Star sell millions of copies every week.
So when somebody intimates that they have the "scoop", we automatically listen to see what's going on. We can't help it!
This is simply the most powerful tool you could ever use for creating sizzling hot email and autoresponder copy that engage readers and keep them from deleting. And it's EXACTLY what you should be doing in every autoresponder email you write.
If you can get the reader to "lean in" and listen to your client's voice, they're suddenly intrigued by the conversation instead of giving it a sideways glance. With those few simple words, you'll pull the reader into the email and give them a reason to stay – instead of going away.
See how easy that is?
I've seen this technique work again and again. Audiences that were once yawning as they read their emails were suddenly focused and attentive, anxious to get to the next line … and the next … and the next, all the way down to the link. And most times, they'll click on it without even being conscious of why.
Of course, you've got to have a great story to go with it, along with a unique way to tie it into the want/need/desire/problem your prospect is experiencing. And inside Autoresponder Apprentice, I show you exactly how to do all that.
But for now, here are a few more resources you can tap to help you get the "lean in" …
Personal Experience: The "you wouldn't believe" statement from above is a great example of this. But you can modify that to virtually anything going on in your life. Think kids, spouse, work, church, your mood at the time, whatever. Hint that you're going to pull back the curtain and give someone a peek, and they'll almost knock you over to see inside.
Cultural Icons: This is one of my favorites because cultural themes tend to grab the reader's interest immediately and hold them tightly. References to popular movies, TV shows, songs, etc. in your emails bring about nostalgia – and nostalgia sells. But always make sure they're "global" in nature, or something that most everyone can relate to or understand. For example: Star Wars, Jaws, Rocky, all iconic. That indie film you saw in college? Not so much.
Topical Issues: A virtual treasure trove here. Between celebrity meltdowns and the latest reality show controversy, there's more lean-in fodder in this category than you could ever want. Think about what's on the covers of those rag mags and you're golden. And the best part? It just keeps coming and coming. (Charlie Sheen, anyone?) Just stay away from politics and religion unless you want to alienate a massive chunk of your client's list and get fired in the process.
Yes, there are many additional elements that go into a great email. There's the opening, story, transition, link placement strategy, and much more.
But if you want to grab the attention of the reader and keep them engaged throughout, then the "Lean-In" is essential to the copy, not to mention the quickest, easiest way I've found to send your client's open rates through the roof.
So take advantage of your reader's curiosity and get your audience "leaning in" ASAP!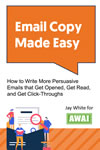 Email Copy Made Easy: How to Write More Persuasive Emails That Get Opened, Get Read, and Get Click-Throughs
Learn to write emails that drive people to take action, and take advantage of the fastest way to make a living as a writer. Learn More »

Published: March 24, 2011