Build Your Own Freelance Website …
And Be Open for Business in just 4 Days!

If you're going to be successful in your freelance business, you absolutely NEED a website.
There's no putting it off any longer.
You may have been able to get by without one five years ago … but in 2011, it's virtually impossible to run a professional business without a professional freelance website.
There will come a day, if it hasn't happened already, when you'll be talking to a prospective client that they'll say to you:
"Give me your website address – and we'll talk some business."
What will you say if you can't give them one?
Or, what if you have a website, but you're just not sure it will impress?
I'm going to fix that for you.
In just a few weeks I'm going to lift the "where do I start" part of having your own website off your shoulders once and for all …
And teach very special online website-building experience we call Build Your Freelance Website in Four Days Express Webinar Series.
Last year I created this 4-day webinar series and after seeing just how many professional websites AWAI members created, I've decided to do it again.
During the four day event I'll be walking you through everything from start to finish –and you will be following along, actually building your very own freelance website step-by-step as we go.
And you'll be up and running with your site fast – not months or even weeks from now.
But in just a few days!
I'll take you by the hand beginning May 9th.
And by May 12th, you're website will be up.
But you have to hurry! The deadline to sign-up, and to save $100 is April 21, 2011.
"That was one fantastic webinar, Rebecca. I'm not sure anyone else, but you, would have even wanted to take this type of webinar on.

What a challenge, but I think it was pulled off amazingly well …

You armed everyone who listened to the 4 sessions with what they need to get their websites up. Really quite amazing. Thanks again for a fantastic job."
– Bill Z
"JanetGrosshandler.com is up and running. I am still waiting for a professional header coming in a few days to replace what's there now, but I am amazed that it is up. And NEVER would have gotten this far without your program and encouragement.

The series was scary, challenging, and so full of information that I know I will keep going back to the slides and videos. Plus the forum is SO helpful as others encountered similar obstacles.

All in all, this program and especially YOU are the best! You hand-hold us through scary stuff and make the monsters go away. I thank you from the depths of my heart."
– Janet G
"I really enjoyed the classes. I appreciate the fact that I now have a blueprint for creating a website, step by step, that I can use over and over again until it becomes automatic!

I am so grateful that I responded to your email … and accepted the offer to take the class and make a functional, professional, freelance writer's website in 4 days.

If you had not extended the invitation … I know I would not have done it anytime soon. God bless you Rebecca! Keep up the great work."
– Adella P
Build Your Freelance Website
In Four Days
Express Webinar Series

May 9th –12th
Questions? Call AWAI's Member Services Team
866-879-2924 (toll free) or 561-278-5557 (outside US)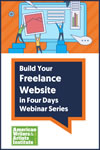 Build Your Freelance Website in Four Days
No matter what niche you're in, if you're a freelancer, you must have a website that showcases what you do. You can launch your own professional website in just 4 days. Experts show you every step. Learn More »

Published: April 12, 2011