Crank Up the Economy ... With Copywriters?

What was I thinking?!
I couldn't have picked a worse time to leave a comfortable, salaried position with benefits.
March of 2009 saw the economy in the dumps (not much better now, but on the upswing, I believe).
But you know what?
For about six months, I didn't listen to the news. Didn't read a newspaper. Didn't even surf news sites on the internet.
I just put my head down and immersed myself in copywriting. And business was pretty good, considering I didn't know what I was doing.
See, even in a bad economy, businesses still need to increase sales and make money. In fact, in a bad economy, it's critical.
And if you're a salesperson, marketer, or copywriter who can help a business make more money, you can write your own ticket.
Now, if you're a smart copywriter, you'll take it two steps further. First, you'll focus on a particular niche, preferably one that you have some experience with or passion for. And two, you'll market yourself directly to prospects in your chosen niche.
I wasn't a smart copywriter.
No, I proceeded to ignore good advice from people like Nick Usborne, Pam Foster, Bob Bly, Joshua Boswell and Rebecca Matter. I figured I'd try my own unique (read: untested) system for marketing my services. It consisted of a little bit of a lot of different things.
Somehow, mostly through referrals and personal contacts, a number of projects fell into my lap, and have continued to for the past two years. (Warning: waiting for projects to come to you is NOT a marketing strategy!)
Amazingly, that haphazard system was enough to replace my previous corporate income in my first full year of freelancing.
But I didn't become a freelance copywriter to just get by, and I'm guessing you didn't either.
In a way, I feel like the last two years have been a warm-up. I've gotten paid in experience.
Now it's time to get paid in CASH. Serious cash.
So, here's the plan.
It's time for a Breakthrough Year.
I told Rebecca at the Web Intensive in San Diego that I was giving myself exactly two months to identify a niche, work on my website, and develop a detailed marketing plan.
Two resources I'm using to help me accomplish that are Niche Yourself and Thrive by Pam Foster and Rebecca's Build Your Own Freelance Website in Four Days Express Webinar Series that I told you about earlier this week. From what I can see so far, Pam's course is a perfect complement to the upcoming website series.
I got back from San Diego on March 4th, and May 4th is the day I re-launch my copywriting business. Nothing like making an announcement to hold yourself accountable, hey?
If you're due for a big money year, check out my article, Your Creative and Persuasive Talents: The perfect mix for abundant opportunity. I explain why your opportunity for success as a copywriter has never been better. I also give you a simple action plan for a Breakthrough Year, no matter what your starting point.
Think about it. You'll be super-charging your own success, and you'll be doing your civic duty by stimulating the economy. How patriotic is that?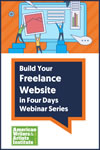 Build Your Freelance Website in Four Days
No matter what niche you're in, if you're a freelancer, you must have a website that showcases what you do. You can launch your own professional website in just 4 days. Experts show you every step. Learn More »

Published: April 21, 2011