Getting Other People to Promote You

If you've been reading The Writer's Life this week, hopefully, you're feeling confident about promoting yourself, have a tagline and elevator speech at the ready, and have at least started your self-promotion letter for clients – if not already finished it.
So today we're going to move into the next stage of self-promotion …
This stage, in my opinion, is one of the easiest AND one of the quickest ways to expand your business once you've put the first elements we've already discussed into place and have landed a few clients.
It involves letting those clients, and other people who know your work, sell you.
That way, you can spend more time focusing on your writing projects and still keep building up your marketing efforts with little or no effort on your part.
This type of self-promotion is typically called 'getting referrals,' and once you get the hang of it, can end up being your main resource for finding new clients.
We marketers often know lots of other marketers …
And all marketers and small business owners are always on the lookout for new writers who can increase the company's bottom line.
Let's say you write an autoresponder series for me, and I am happy with the results. I then refer you to my marketing colleagues as a copywriter whom they should test the next time they have a need for a new autoresponder series.
See how simple that is?
The same goes for grant writers, resume writers, desktop marketers, graphic designers … you name it.
If you do a good job, your client will usually be happy to refer you. And there's no stronger piece of proof that you can deliver than a satisfied client singing your praises.
So how do you get referrals from clients?
Earlier this week, successful AWAI copywriter John Wood wrote an article that includes 15 tips for getting client referrals.
Take a look, and then let me know if you have any other questions about getting referrals, or any experiences you've had with getting clients through referrals, by posting a comment below.
And remember, if you're a freelancer and don't yet have a website, plan to join me for this year's Build Your Freelance Website in Four Days Webinar Series. Even if you have zero technical know-how, I'll show you how to write and build a freelance website that will show potential clients that you are a professional who can deliver, all in just four days.
You can learn more and sign up here.
Just remember, space is limited and the deal ends soon. So register today!
And if you have any questions about the series, just post a comment below.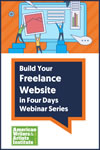 Build Your Freelance Website in Four Days
No matter what niche you're in, if you're a freelancer, you must have a website that showcases what you do. You can launch your own professional website in just 4 days. Experts show you every step. Learn More »

Published: April 14, 2011