Secrets, Half-Truths, and Full Confessions

The subject line above wasn't just a catchy headline to get you to read this post. We won't be discussing Charlie Sheen or any other Hollywood celebrities.
I am, however, going to pull back the curtain on my own life this week. Not nearly as risqué as Charlie's, but much more applicable to your life and your goals as a writer.
Exactly two years ago, I left a very comfortable, secure job in corporate cubicle-land for the uncertainty of the writer's life that had eluded me for so long.
While I'd like to tell you it's been a consistent, upward trajectory to fame and fortune, here's the truth.
It's been an emotional and financial roller coaster of a ride.
I've scored some big projects, and I've fallen flat on my face on some smaller ones.
I've had months where I tripled my previous monthly income, and I've had months where I didn't make a dime.
I've had clients call me with great news of a promotion I wrote that worked wonders. And I've had clients tell me they wouldn't be needing my services anymore (okay, call it what it is – "getting fired").
The writer's life is not for the faint of heart.
Over the next five days, I'm going to lay things bare.
I'm normally not an open book. Heck, even my friends and family don't know about some of the things I'm going to reveal this week. Regrets, embarrassing moments and missteps.
See, while I've learned 97% of my copywriting skills from AWAI, I've gotten in the way of my own success.
My pride and ego have caused me to make a few bad decisions. Just when I thought I had it all figured out, I took a wrong turn. "Shortcuts" became long detours.
Here's why I'm telling you all this.
By sharing these personal road bumps with you, I hope to cut your learning curve down. I'm going to give you some specific action steps that I would take if I could step back two years and do it all over again. If you're open to suggestions, they just might accelerate your path to the writer's life.
One other thing. In spite of the mistakes I've made, becoming a copywriter was hands down the best decision I've ever made.
I have more freedom than I've ever had in my life.
I'm living a life of intrigue and status (alluring details to follow tomorrow and Wednesday).
In a time of economic uncertainty, I am completely optimistic about my future.
And I'm using my AWAI-trained copywriting skills, creativity, and God-given talents to make more money in less time than I ever thought possible.
Join me for The Writer's Life this week as we delve into the dark side and emerge victoriously in the light.
By Friday, you'll have some insider tips, concrete takeaways, and an action plan for a breakthrough year in 2011, no matter what your situation is.
Oh, and about those full confessions? Read about "A copywriter's life exposed" here.
P.S. I'll be talking more about this during the week, but here's my first insider tip …
It's probably the very first step in building a successful freelance business: a website that gets results.
Not sure where to start? Or want to improve your existing website?
Join Rebecca for her upcoming Build Your Own Freelance Website in Four Days Express Webinar Series.
If you're a freelancer, you need a website. And Rebecca is one of the only people I know who can deliver on a promise like helping you have yours up and running in only four days.
Don't miss it!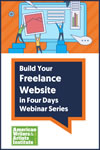 Build Your Freelance Website in Four Days
No matter what niche you're in, if you're a freelancer, you must have a website that showcases what you do. You can launch your own professional website in just 4 days. Experts show you every step. Learn More »

Published: April 18, 2011