True Confessions of an Unorthodox Copywriter
The good, the bad and the beautiful

"The dissenter is every human at those moments of his life when he resigns momentarily from the herd and thinks for himself."
– Archibald MacLeish
Some days, I feel like an utter failure.
I look at people like Paul Hollingshead, whose first project brought in over a million dollars and launched his career.
Joshua Boswell, who made just over $100,000 in his first full year as a copywriter.
Bob Bly, who has made six figures for over twenty straight years and is now in the half-million range.
Me?
In my first full year of copywriting (2010), I made just over half of what Joshua did.
Not exactly a meteoric rise to fame.
There have been days I've thought about throwing in the towel. But then my beautiful wife reminds me of a few things.
I just launched my copywriting business in April of 2009. I'm still learning. I have a balanced life. I'm very active in my church, I volunteer at my kids' school, and I spend a lot of time with my family.
Oh, and I've also taken off a total of 13 weeks in the past two years to either travel or attend conferences. (I consider traveling one of my four major passions in life.)
Copywriting fraud exposed
I also have a few confessions to make:
I never finished the "big assignment" in the Accelerated Program
I don't have a niche
I've never mailed out a self-promotional marketing piece
My first three clients never asked to see my website or portfolio (good thing, since I didn't have either at the time)
I don't have a mentor or a coach
I've only given out one business card since Bootcamp last November
I don't have a marketing system to speak of
Most of my business has come from personal contacts or client referrals (in other words, it's kind of fallen in my lap)
I'm not very good at networking with colleagues
I tell you all this for one reason.
If I can do this, with all my missteps and shortcomings, surely you can too!
I don't have the copywriting skills of Paul Hollingshead. I don't have the charisma of Joshua Boswell. And I certainly don't have the discipline of Bob Bly.
Yet in two short years of being a full-time freelance copywriter, I've managed to get off to a pretty decent start. All while learning as I go, taking 13 weeks off to travel, and maintaining a balanced life.
So, some days I feel like a failure for not immediately achieving superstar status. Other days, I feel like a fraud for being able to make a good living without doing everything I'm supposed to be doing.
Imagine what will happen by the end of 2011 when I fix six of the nine problems I listed above!
That's my point. You don't have to do everything right or have superior skills to do well.
And that leads me to my next big confession …
Are you a nonconformist?
I'm a weird guy. Kind of unorthodox.
You might not guess it by looking at me. But I like going against the grain. I like forging my own path, not following the herd.
I had two successful careers prior to copywriting. Sixteen years in direct outside sales and seven years in a corporate cubicle.
The problem was, I made a terrible employee.
I didn't like having limits on my pay. In sales, I had a fixed commission percentage and a limited number of people I could see. In my salaried job, I could only increase every six or twelve months with a performance review.
I didn't like that I had to stay within a certain geographic territory.
I didn't like having my territory squeezed as I increased sales.
I didn't like having managers who weren't as productive as I was making more than me.
I especially didn't like that my employer dictated when I could take vacation and for how long. I mean, how's a guy supposed to see the world on a lousy three weeks a year?
Bottom line: It bugged me that I didn't have control over a large part of my life.
So when I heard about this idea of the writer's life, I was immediately intrigued.
"Can you write a letter like this one?" …
Read the piece in my mailbox. "Why yes, I believe I can!"
The freedom of being a copywriter fit me like a glove.
You can work from anywhere? Hmm … I like to travel.
You can do it anytime? Well, I like to keep strange hours. I could do this on the weekends, or late at night, or early in the morning.
Once you get really good at it, you can make more money than most doctors and lawyers? Money is good.
More than anything, three benefits jumped out at me:
The freedom.
The opportunity to be involved in interesting, creative work.
The long-term, ongoing financial opportunity.
Freedom, baby!
First and foremost, the freedom of the writer's life is what it's all about for me.
The freedom to live wherever I want to live.
The freedom to work whenever I want.
The freedom to structure my business however I want.
Here's where my nonconformist nature comes in again. I want to see the world, and I don't want to wait until I'm 65 and retired to do it. (if it's up to me, I'll still be working and traveling when I'm 95.)
Since I can't just travel the world and not work, I need to be able to take my work with me.
Copywriting fits the bill.
Those 13 weeks I've taken off in the past two years? I worked on projects on every trip. To most people, the idea of working while you're on vacation defeats the purpose.
But when you love what you do, you relish the opportunity to do it wherever you are. That's how I feel about writing. I'll be doing it this summer when I spend a month in Ecuador with my family.
Engaging your mind and getting paid for it
The second thing that really appealed to me about copywriting was the idea of always being involved in new and interesting projects.
I'm an avid reader, and I love to read about new things. I'm especially interested in personal development, health and fitness, and travel.
Now I get paid to do it! I also happen to enjoy the challenge of selling. And the better I am at understanding the prospect and conveying a persuasive message, the more I get paid. My kind of fun!
My story might not make for a compelling screenplay, but you know what? In the "Theater of my Mind," I'm having a blast and succeeding wildly (and it's starting to play out in real life, too).
Here's how I would summarize the writer's life:
The good
The money (really good once you're established).
Mind-expanding creative work.
A demand for good copywriters that isn't going away.
The bad
It might take a while to get established. The Joshua Boswell and Paul Hollingshead stories are great because they're rare.
You'll have some pitfalls along the way. Projects that don't work out. Wrong turns before you discover a niche that fits you.
In the beginning, you may not be overly efficient and quick. Don't think you'll make $100 an hour right out of the gate.
The beautiful
Living life completely on your terms!
Creating a life of abundance and prosperity as you engage in interesting, meaningful projects.
Making a difference with the words you craft.
These are the things that make life sublime!
"I'm sold. How do I get it?"
I have five suggestions, and these are things I'm in the process of working on myself. I just wish I had taken these to heart years ago:
Get started now. Don't put it off. My biggest regret? I registered for Bootcamp in 2006, then cancelled and bailed out. I didn't think I was ready. (Tip: you'll never be completely ready. At some point, stop dipping your toe in the water and dive in!)
Write every day. I know, I know. You've heard this one a hundred times. But there's something to be said for the practice of doing it day in and day out. (Tip: for a good tip on writing every day, see my article on "Free Writing." Also, Katie has some great weekly writing assignments for Professional Writers' Alliance members.)
Stretch yourself. Go after projects you think you could do, but scare you just a bit. I got my very first client when I was invited to a company meeting. Little did I know it was a monthly board meeting, and I had been invited in to provide marketing advice for the coming year! Talk about stretching yourself! So, go for it. You never know what might transpire.
Set up shop. I waited way too long to do this, and it held me back. Two areas to set up shop in: your niche and your website. The best resources for each, in my opinion? Pam Foster's Niche Yourself and Rebecca's upcoming Build Your Freelance Website in Four Days Express Webinar Series. Starts May 9, and by May 12, you'll be open for business.
Learn how to write web copy. No matter what your niche, you'll need to know how to write for the web, and Nick Usborne is the master. Assuming you've gone through the Accelerated Program, I can't recommend Copywriting 2.0 enough.
I don't think AWAI can put this in their marketing materials, but I'll say it here.
There's no scientific data whatsoever for this. But besides all the "good" and "beautiful" things I've talked about, let me add (with unabashed enthusiasm) …
I believe that living the writer's life will add healthy years to your life … improve your personal relationships … and give you more interesting life experiences … all because of the freedom to live and work as you see fit!
Now, go, stretch yourself, and grab your share.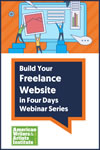 Build Your Freelance Website in Four Days
No matter what niche you're in, if you're a freelancer, you must have a website that showcases what you do. You can launch your own professional website in just 4 days. Experts show you every step. Learn More »

Published: April 18, 2011