Staying Motivated

What keeps you motivated to keep moving forward towards your dreams?
Last week, I taught the Build Your Freelance Website in Four Days webinar series.
As far as attendees were concerned, it was a huge success.
On the day following the last session, my inbox was flooded with emails like this one from Michael P …
"Thank you for the webinar. Informative, simple, and above all else, inspiring. If someone can't get up and running after that, then they don't want it bad enough. I want it, and I want it bad.

"I can't wait to show the world my site and start kicking some copy butt."
What a way to end the week.
It also interested me that along with thanking me for the content of the series, most of the notes I received also referenced an appreciation for keeping them motivated to finish the necessary step of getting a professional freelance website online for their business.
Staying motivated can be tough – especially when you're faced with a challenge that feels really big, like putting up a professional website when you have little to no technical experience …
Or like going after your dreams of living the writer's life.
So today, I thought I'd share with you some of my "best practices" for staying motivated. The first one is more of an offensive strategy …
Don't let anyone shake you.
A few weeks ago, Mindy Tyson McHorse wrote a series of articles that drew a comparison between having a baby and launching a new writing career.
When talking about the "first trimester" for both, she shared how both an aspiring mother-to-be and an aspiring copywriter often don't want to tell a lot of people. You don't want them to judge you or question your ability to pull such a big decision off.
But I can tell you from experience that it will inevitably happen at some point on your way to living the writer's life. For some, it happens when they first decide to go after their dreams – their family and friends jump in and try to "help," but only wind up causing doubts and insecurities.
For others, it happens later down the path, when the first roadblock appears. Those same "helpers" show up to discourage you from pushing through, trying to protect you from any frustration you may feel if you're unable to do it.
It's in these moments that you need to remember why you chose to start down the path to begin with.
If you haven't yet, I recommend you take a moment today to write down on paper what your version of the writer's life looks like to you.
Answer the questions: why do I want to live the writer's life, and what will my life look like when I've reached it?
Post that piece of paper in a place where you can see it regularly, like to a bulletin board in your office or in a frame on your desk. And when someone tries to shake you from following your dream – I mean "help" – read it and remind yourself why you're doing this. And if that doesn't fix your shaky feeling, head on to my next tip …
When you're feeling shaken or discouraged, turn to positive people.
Misery loves company, right? Well that kind of relationship can be dangerous when it comes to creating a new life for yourself. You and I both know it's hard work! And in the end, finding someone to commiserate with you will only delay your success that much longer.
Sure, it's a good idea to talk to people who were once where you stand now, and understand the roadblocks that occasionally pop up, or how it feels to be frustrated.
But remember, when you're stuck, you want to get unstuck. So turn to people who can move you forward rather than hunkering down with people who will keep you in place.
Also, know that it's bound to happen. Even the most positive and successful people in the world get knocked down every now and again. The key is to recognize when it happens, and then take action towards fixing it. And that includes steering clear of other discouraged people who will only keep you down.
Not sure where to find positive people? Head on to my next tip …
Join a group of like-minded people.
Whatever your path is to the writer's life, know that there are other people on that very same path. And those are the people who will understand what you're going through best and be able to give you advice or the little push you need to stay positive and keep moving forward.
And AWAI makes connecting with your fellow members very easy through its membership groups like the Professional Writers' Alliance, Wealthy Web Writer, and Circle of Success, as well as through the AWAI forum, which is free for all AWAI members.
Simply join up with your fellow writers in any of these groups, and you'll have access to other like-minded people whom you can turn to when you need some help … want to celebrate success … or even just to get some ideas for a project you're working on.
Take at least one action towards living the writer's life every single day.
Make the commitment right now to do something every day to move your career forward, no matter how small.
Whether it's writing an email to a potential client, reading another chapter in your Six-Figure Copywriting Program, or writing another page of your freelance website, taking action will not only move you closer and closer towards your goal, but will help you feel in control of your path.
Some writers, including me, find that planning those actions in advance makes it even easier. When writing your to-do list for the next day, make sure that list includes at least one action aimed at moving you forward. Star or circle that activity so that you're mindful of it, and make sure it gets done.
And finally, find something that motivates you.
For me, that something is you. Working with AWAI members every day gives me the motivation I need to keep moving forward down my own path.
You are a constant source of inspiration for me. And whenever I need an extra kick, I just read the comments you write to me on the AWAI website, or the notes we've exchanged over Facebook, or the stories and notes that are saved in the AWAI archives, and immediately I'm re-energized to move forward once again.
What motivates you? I invite you to share it with me in the comments below.
And if you're searching for a source of motivation, I recommend you check out the AWAI Wall of Fame where you can hear from other writers who were once in your shoes and are now living the writer's life.
Many of the latest inductees have told me that getting on the Wall of Fame actually became one of their primary goals on their path to success because it was a clear and focused goal they could work on.
Remember, the writer's life is in front of you, and there's no reason you can't live it. You just need to stay motivated and keep stepping forward until you reach it.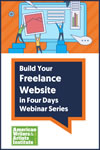 Build Your Freelance Website in Four Days
No matter what niche you're in, if you're a freelancer, you must have a website that showcases what you do. You can launch your own professional website in just 4 days. Experts show you every step. Learn More »

Published: May 17, 2011