The Best Investment for 2011

My 14-year-old 8th grade son just took the SAT in January.
He got great scores – enough to already get him in a Big Ten school like the University of Wisconsin or Ohio State (and he hasn't even started high school yet).
Of course, he has designs on Yale (we kind of think big in the Roller household), and I have no doubt he'll be in the 7% of applicants who get accepted.
Have you seen what Harvard and Yale cost these days? Yikes! $33,696 and $36,500 per year for tuition alone in 2009-10.
Seeing those figures reminds me I need to get to that A-level copywriter status fast!
Since I have saving for college on the brain, you might think that my suggestion for best investment for 2011 is to invest in education.
You would be partially right.
I'm all for investing in higher education, even as tuition costs skyrocket.
But I'm even more for investing in ideas that make me money.
See, the problem is, I'm a little behind on saving enough money to pay for all four of my kids to have an Ivy League education.
That's why I decided a few years ago to start investing in ideas that would eventually make me way more money than any regular job.
I'm in the process of writing a Money-Making Website (and so is my 14-year-old son with Ivy League tastes, who knows he's going to be paying for part of it).
I'm studying Gary Scott's Self-Publishing: Your Complete Business Plan for Creating a Life Without Borders, as my wife and kids and I get ready to venture to Ecuador for a month this summer (a scouting trip as we investigate opportunities there).
I'll be redoing my website after I take Rebecca's Build Your Freelance Website in Four Days Express Webinar Series next week.
And, of course, first and foremost are my copywriting resources from AWAI, which have already given me a return on investment of over 1,121% (calculated over a year ago – it's even higher now).
Hmm … 1,121% … or 7% if I'm lucky in the stock market?
I'll put my odds on me and my abilities to create wealth.
On August 28, 2008, as the U.S. recession was just warming up, billionaire investor and philanthropist Warren Buffett addressed stockholders of his Berkshire Hathaway Group. Someone asked him about the best investment they could make at that time.
"The most important investment you can make is in yourself … the best asset is your own self. You can become to an enormous degree the person you want to be."
I agree with Buffett wholeheartedly.
We're in a crazy economy. Relying on the stock market for your retirement or wealth isn't the safe bet it used to be. Employment now seems riskier than carving out your own path.
Fact is, there aren't a lot of guarantees when you depend on other people or companies for your success.
One thing you can depend on is you.
Invest in yourself, and become the person you want to be.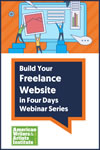 Build Your Freelance Website in Four Days
No matter what niche you're in, if you're a freelancer, you must have a website that showcases what you do. You can launch your own professional website in just 4 days. Experts show you every step. Learn More »

Published: May 4, 2011