Joshua Boswell to Help Copywriters Get and Keep Clients at this Year's 2011 Copywriting Bootcamp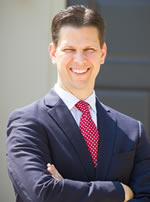 Joshua Boswell is the secret weapon that technology companies turn to for their marketing success when it comes to breaking into new industries and launching new technologies. Companies like Corel, Sony, Toshiba, and Microsoft have called on Joshua's copywriting and marketing skills to orchestrate worldwide campaigns.
But it's not just technology companies that rely on Joshua …
Currently he has four direct-mail controls in the non-profit world that continue to mail and produce top results for St. Jude Children's Hospital, Iowa Right to Life, and the Children's Christian Fund.
Despite such incredible success, Joshua saw the changing economic climate as an opportunity to grow his business even more. And within only four months of changing his self-marketing strategy, he's increased his own client base and revenues by 300% … without increasing his time commitment. In the end, his copywriting success allows him to spend more time with his wife Margie and their nine beautiful children. And for Joshua that's really what it's all about.
AWAI is excited to announce that Joshua will be returning to AWAI's 2011 Fasttrack to Copywriting Success Bootcamp and Job Fair as the event's Master of Ceremonies and will share his new self-marketing strategy during a special session on Getting & Keeping Your Perfect Clients.
Joshua will show copywriters how to find the right clients for their business, how to win them over, and then keep them as long as they want them.
If your goal is to launch your business this year or take it to the next level with higher-paying clients, you'll have all the tools you need to make it happen at the end of the first full day of Bootcamp.
Says Joshua, "The secret of becoming wildly rich and truly enjoying the writer's life is discovering your inner Golden Ticket. Every successful copywriter that I know can trace their success back to the day they discovered, claimed and used their personal Golden Ticket. It's like flipping a switch inside of you or like unlocking a door. When you have it, you have free access to all the best writing projects. When you don't there's frustration and sadness. Isn't it time for you to claim your Golden Ticket? When you strip away all the fluff and hype, that's what AWAI's 2011 Fasttrack to Copywriting Success Bootcamp and Job Fair is really all about … discovering your personal, inner Golden Ticket. Your life will change. It will become richer, happier, more fulfilling."
Secure your spot for AWAI's 2011 FastTrack to Copywriting Success Bootcamp and Job Fair October 26 – 29th 2011 in Delray Beach.
Here's a reservation form to make it easy, or call Barb, Pat or Debbie at 866-879-2924.
Get in now while low payment plans are available, and the early bird registration discount still applies.

The Professional Writers' Alliance
At last, a professional organization that caters to the needs of direct-response industry writers. Find out how membership can change the course of your career. Learn More »

Published: June 29, 2011