Ready for Step Three?

How's your forward progress this week? Are you closer to living the writer's life?
That's my goal for you by the weekend. And today, we're moving on to step three of my "make significant forward progress in a week" plan.
(If you missed Monday or Tuesday, you can access step one here and step two here.)
Today's step is the one that often feels most daunting for writers just starting out …
It's building your business.
Don't worry … I don't expect you to build your business in one day.
But I hope to get you moving, and ideally keep you moving from here on out.
Building a successful writing business is made up of many parts …
Finding clients you want to write for.
Marketing yourself and following up.
Pricing projects.
Working with clients.
Following up with clients.
And my favorites: collecting payments, raising your fees, and proposing new projects!
The cycle never stops. Just like you'll always continue to learn, you'll always continue to build your business.
Now, reading that list of parts may leave you feeling a little overwhelmed.
"How will I get all that done?"
My answer is the same for this question, "How do you eat an elephant?"
One bite at a time.
When it comes to building your business, you don't need to sit down and do all the tasks at once. It's an ongoing process, just like learning.
Successful AWAI copywriters don't take the Six-Figure Copywriting program and then once finished say, "Okay, I'm done learning!"
Even though the program gives you everything you need to learn the art of persuasive writing and launch your copywriting business, you'll still continue to learn and improve throughout the life of your copywriting career.
The same goes with business building.
Even when your business is rocking, and the clients and money are just flowing in, you'll still want to keep marketing …
That way, you'll be in a position to continually keep evaluating opportunities and pick and choose the ones that are most valuable to you.
And if something ever happens to a client, you'll be able to easily replace them.
So how do you go about getting it all done?
Do one thing every day to build your business.
That's right. One thing … every day.
It doesn't have to be huge, and it doesn't have to take up a ton of time. But if you can do one thing every single day to build your business, you can rest assured that your business will continue to thrive.
If you're trying to start up your writing business while balancing a full-time job and are pressed for free time, doing one thing a day can be especially effective.
Let's take a look at some daily activities you can choose from …
Research 10 new clients in your niche.
Write your self-promotion email or sales letter.
Reach out to a new potential client.
Follow up with a potential client you've already started a relationship with.
Propose something new to a client you're already working with.
Write an article demonstrating your area of expertise.
Research places to publish the article.
Plan your tweets or Facebook updates for the week.
Research and join a community on LinkedIn of people who could be potential clients.
Post a few comments to various threads in a relevant LinkedIn community.
Revise a page of your freelance website.
Send out a request to a recent client for a testimonial.
Send out a request for a referral.
I could really go on for pages … there are so many things you can do to build your business.
So your action item for today is to come up with one thing you can do tomorrow to build your business.
And then add this action item to your to-do list every day from here on out. Some weeks, you could work on the same type of task several days in a row. Or it could be different every day.
The important thing is to do one thing every single day.
Now, of course, if you're just starting out, you may want to spend a bit more time on things like getting your website up and going so that you can begin promoting your services.
For example, let's say you want to get your website up and running this month, and you want to focus your daily activities on that. Here's how I would organize the tasks …
Day one: Pick and register a domain
Day two: Set up hosting
Day three: Plan navigation
Day four: Write my homepage
Day five: Write my about page
And so on and so forth.
(Note: if the thought of building a website intimidates you, make sure you check out my Build Your Freelance Website in Four Days webinar series. I'll cover all the steps in detail and get you through it with little pain – I promise!)
Just remember, the key is to do something every single day to build your business.
So tell me, what will you do tomorrow to build your business? That's your assignment for today.
And once you have your answer, I invite you to share it with me below.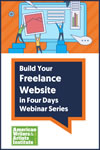 Build Your Freelance Website in Four Days
No matter what niche you're in, if you're a freelancer, you must have a website that showcases what you do. You can launch your own professional website in just 4 days. Experts show you every step. Learn More »

Published: July 27, 2011