Let Me Buy You a Drink (or Two)…

Katie, Michael, and I were laughing the other day, reminiscing about our very first AWAI FastTrack to Copywriting Success Bootcamp.
It was back in 1999, I think. AWAI was only about two years old. We had 20 or 30 very eager AWAIers in a little closed-off room at the Marriott.
We'd never done anything like it before. Our presentation technology consisted of these: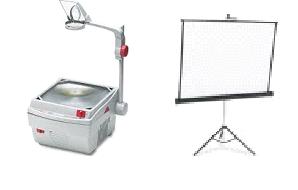 … one of those old overhead projectors that cast handwritten images from a piece of cellophane onto a collapsible screen.
Katie reminded us of how I got up and completely forgot my presentation …
And how at one point Michael was so excited about an idea he wanted to get across that he started writing with a marker on the actual projection screen instead of the little sheet of plastic paper you're supposed to write on.
If memory serves us, the money we had to pay the Marriott for their ruined screen pretty much ate up any meager profits we may have had from the event!
Thank goodness – for everyone – Bootcamp has come a long, long way since.
Today, it's become the most important and pre-eminent event any working or aspiring copywriter can attend each year … it's the place to learn from dozens of the industry's top marketers, writers, and web experts who today use powerful multimedia presentations to show us what's working now.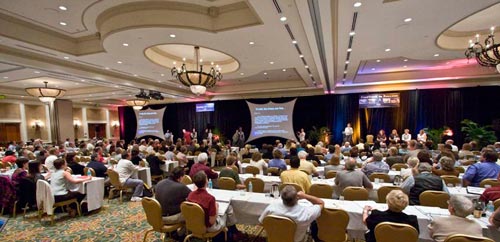 But one thing hasn't changed from the old days – and that's the intimacy of it.
Because despite every new writing secret and marketing technique you'll learn, I've always believed that the most important experience you will take away from Bootcamp is what happens away from the presentation halls …
Like a private one-on-one conversation with Bob Bly …
A chance to sit and chat with Michael Masterson …
Having a beer with me at the little hotel bar …
Meeting up and trading stories with fellow writers and AWAI members …
Or tagging along with me, Michael, Don, Katie, and a few of your fellow AWAI members for dinner at one of the great restaurants on Atlantic Avenue.
And, of course, the networking event of the year – Job Fair – where dozens of marketers from around the country come in search of new writing talent armed with real, live spec assignments any Bootcamp attendee can tackle.
You see, more than anything else, Bootcamp is where important contacts are made, relationships are formed, and writing deals happen.
I can't tell you how many AWAIers over the years credit Bootcamp with launching their writing careers once and for all.
I know I've met folks whose names I've passed on to people I work with, only to find they've just written an important breakthrough letter for a major financial publisher – and their careers have taken off like rockets.
Katie has told me dozens of stories over the years about how relationships formed at Bootcamp have launched hundreds of writing careers.
Like when she introduced Jim Turner to Taipan Publisher Sandy Franks. Jim mentioned he was interested in writing financial copy and offered to do a spec for Sandy. Two weeks later, Sandy was Jim's first client.
Or when Sean McCool met Mike Palmer, head copywriter for $60 million powerhouse Stansberry & Associates. That meeting led to a full-time gig for Sean and a quantum leap in his career.
Mindy Tyson McHorse tells us it was her face-to-face connection with Rebecca that cemented her success as a copywriter. During their meeting, an idea sparked that gave her the confidence to hit her goal of earning six figures last year.
And it all makes perfect sense: you can study the techniques and practice your writing as much as you want …
But until you start making contacts and meet that person who can give you your first "shot at the big time," you're not going to have the quick success so many Bootcamp attendees have had!
That's why I'm writing you today.
I want you to come to Bootcamp this year.
Not because we need to fill the seats or break last year's attendance record. (Indeed, Bootcamp sells out pretty much every year, and already – with over 2 months to go – more than 200 of the available 300 seats are taken!) …
I want you to come because I want to see you succeed faster.
And to prove I'm sincere about that, I want you to track me down when you're there … and let me buy you a drink – so we can talk about you: where you are now in your writing career … where you want to be … and how we can help you get there.
You can also feel free to ask me any questions about the business … the kind of writing I do … or the kind of writing you want to do. If I don't know the answer, I'll walk you right over to someone who will.
Bring some of your writing if you want and I'll have a look at it and give you some suggestions I think will strengthen it.
And hey, if it takes two drinks, that's fine too!
Point is, if you're going to take the time and make the effort to come to see us at Bootcamp, it tells me (and all of us) you're dead serious about your success.
And the least Michael, Katie, Don, or any of us can do is be there to talk with you and help you in any way we can.
So do we have a deal? You come to Bootcamp. We'll get together to chat. And the drink is on me.
Of course, if you want to come and you haven't signed up, you'd better hurry. This year's Bootcamp runs October 26th through the 29th, so we're only about 8 weeks away.
But more important is what I mentioned before: out of the 300 spaces available, a little over 200 have already been taken. And given that most people wait until, well, right about now to sign up – we expect this year to be another sellout very soon.
If you know all about this year's Bootcamp and you're ready to sign up, you can go directly to the registration form here …
Or, if you'd like to learn more about the event from Mindy (this year will be her fourth Bootcamp!), click here for full details.
Either way, I urge you to take care of this soon – so we can start getting you the information and materials that will help you make the very most of the extraordinary event we have planned for you.
You can ask any past attendee who's now a successful, professional, highly paid writer:
Nothing you can do – no event you can attend – has the power to accelerate your success faster than coming to Bootcamp and soaking in the entire experience.
I hope to see you there.
And don't forget about our drink!

The Professional Writers' Alliance
At last, a professional organization that caters to the needs of direct-response industry writers. Find out how membership can change the course of your career. Learn More »

Published: August 22, 2011